Last updated on: May 23rd, 2019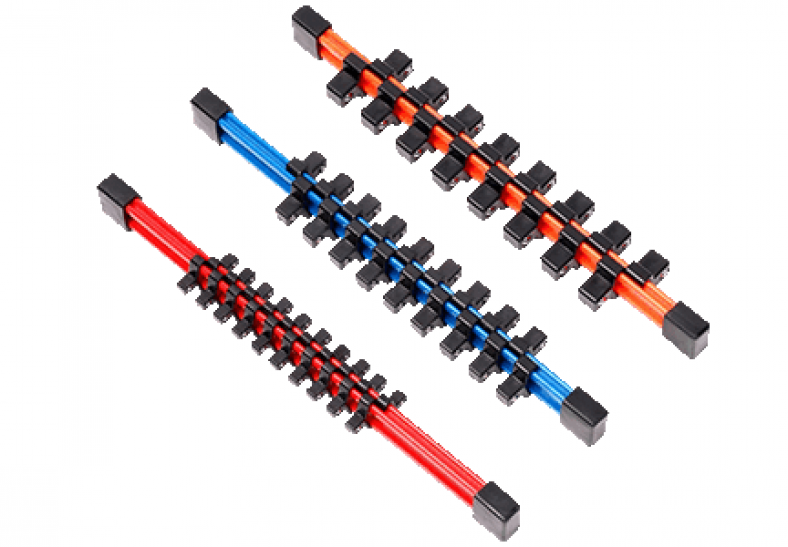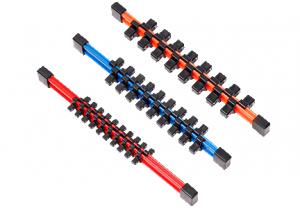 If you are engaged in auto or home repair, chances are you know how hard it can be to store all your tools in one place without losing anything. Every craftsman dreams of being able to organize all the tools he uses in a convenient and efficient way, as this contributes to a more productivity.
No one wants to waste time searching for a lost tool or that 10mm socket that seems to walk off on its own.
Unfortunately, not all have pursued this dream. Ratchets are essential for every craftsman or professional contractor but sockets always get lost which renders the ratchet useless. There is no way you can live without them.
How to organize and store them efficiently?
The easiest way to keep your sockets in order is to use a convenient organizer, which may not be that easy to find in 2019 when there are so many options available.
In this article, we have prepared a smart solution for you – here you will find comprehensive information on some of the most convenient and high-quality organizers for your money. Check out our review to pick the best socket organizer with ease!
What Should You Pay Attention To When Buying A Socket Holder & Organizer?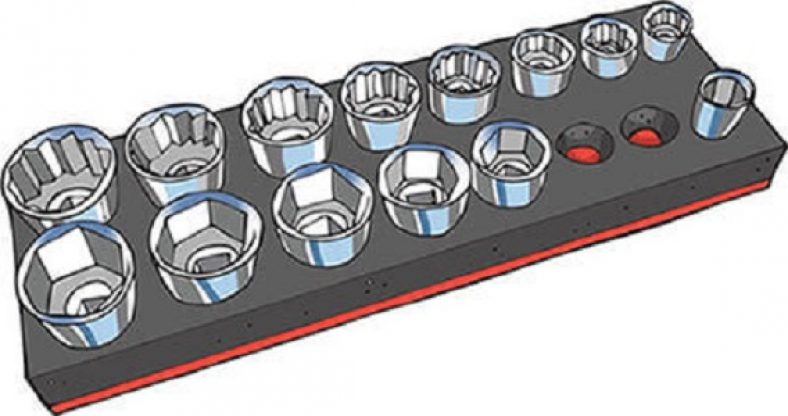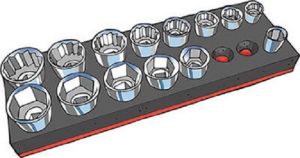 With the help of a good socket holder, you will keep them well organized and will find it easier to keep track of the tools you have.
Thus, you will know exactly where to look for each particular socket when you need it. However, finding a suitable option for you may be quite challenging.
There are so many options available, made by many manufacturers. Such organizers also come in various styles and can have different size, functionality, benefits, and features.
Therefore, each person should consider his or her individual needs and our clear buyer's guide will come in handy as you search for the best option!
What features to consider? Here are the key things to pay attention to:
Flexibility and Portability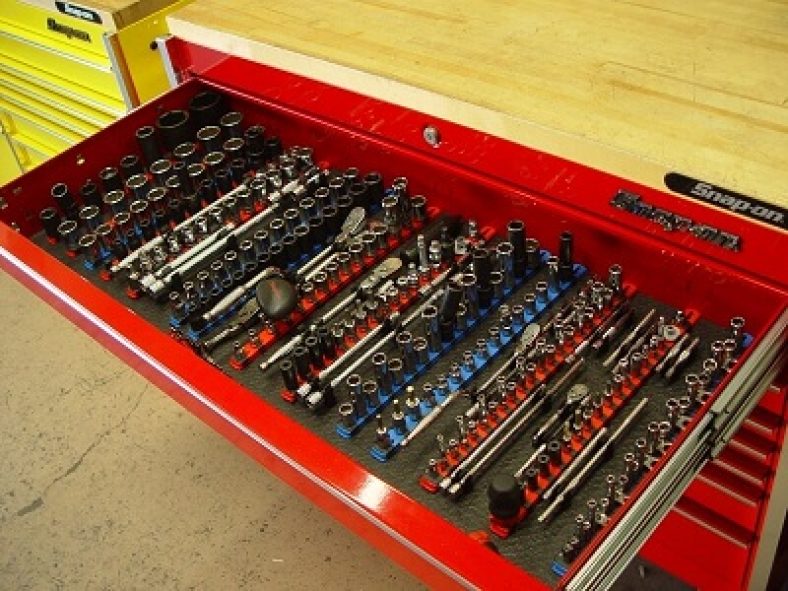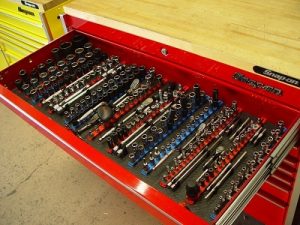 Each person has different needs in terms of storage and considers yours to find the handiest and most convenient holder. If you need to move the organizer or take it with you, you don't want to buy one that is too inconvenient to carry around.
However, you may also not have a need to move it at all. Then you should consider this as well.
Some models come with magnetic strips that allow you to attach it to your car easily, which is a good thing if you do some auto repairs.
Besides, these strips also hold the items inside your organizer, which guarantees you will not lose them.

Storage Capacity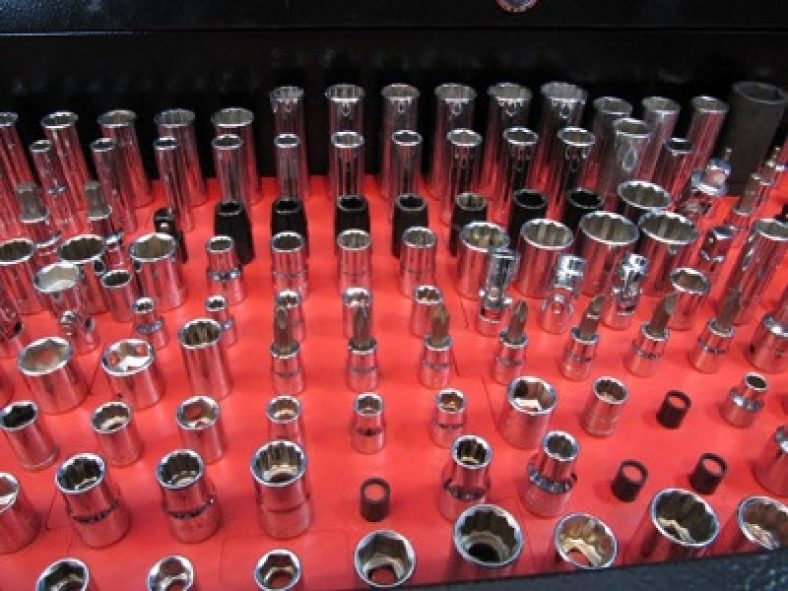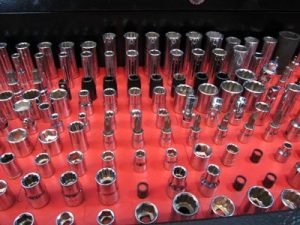 Another important feature to consider, before buying a particular holder, think how many sockets you normally use and purchase a model that has a suitable capacity.
There are organizers with multiple trays as well as smaller options that can fit only a limited amount of sockets, so you should know exactly how many you own now and how many you may need in the future.
How to pick a perfect size?
We recommend buying a holder with maximum capacity available within your budget because even if you don't have many tools now, you may need more soon and it is a good idea to be ready for this.

Mounting Capacity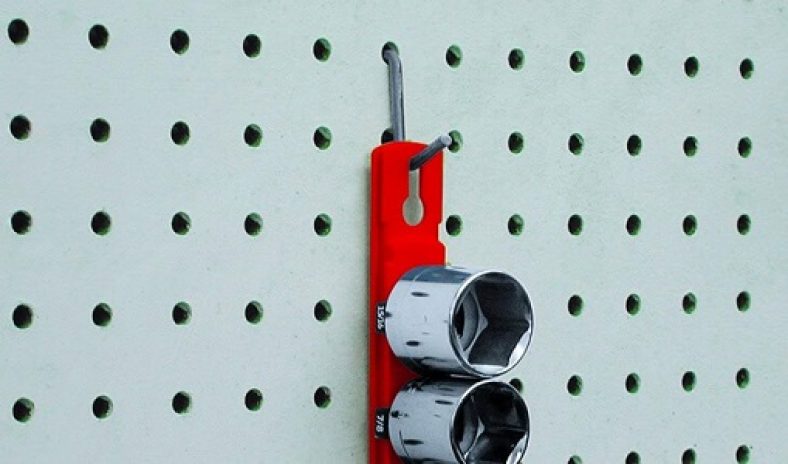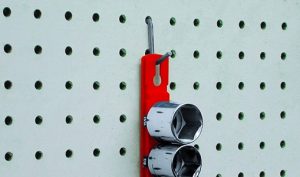 Most options are designed to be attached to a workbench or wall but not all are good for putting in a vertical position.
What does it mean?
If you are planning to put your holder on the wall, you should consider this detail and find a suitable organizer. The last thing you want is to waste money on a high-quality holder, spend time on organizing all of your tools, and then see it fall off the wall right after you put it there.

Extra Features
You may come across some holders that have additional features. There are options that come with a metal clip or magnetic organizers, many individual slots or with a tray that has multiple slot options.
Therefore, before making your final choice, you should also think about whether you need any of these additional features and consider options that meet your individual preferences. This will help you choose the most suitable option.
Best Socket Organizer Types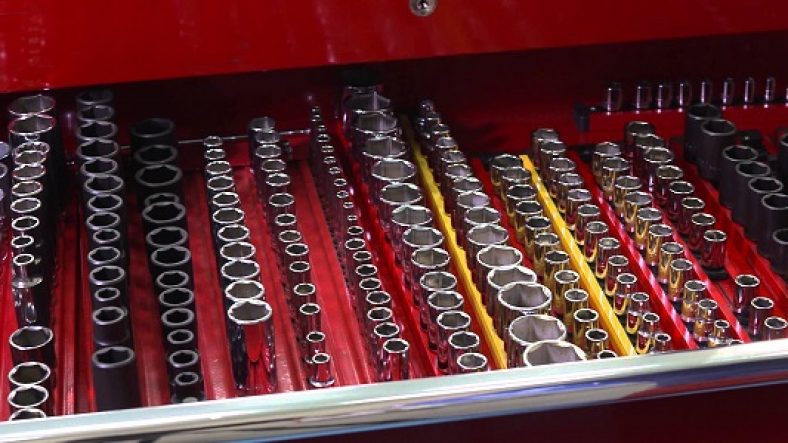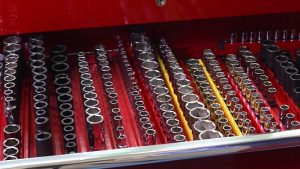 Organizers can come in all shapes and sizes, have different capabilities and features, and there are many types to look at. Here are the most common types:
Drawer Insert: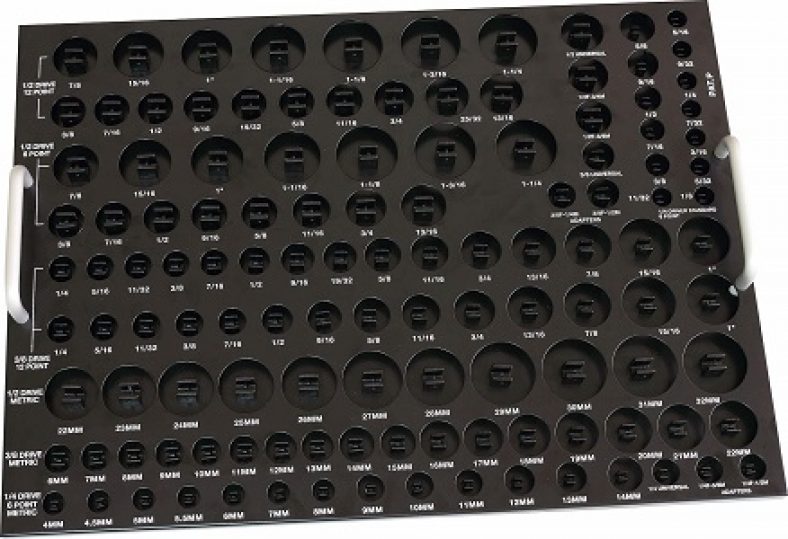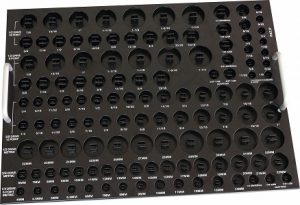 these can be made of padded foam, plastic, or metal and are quite heavy and bulky, which is why they won't suit you if you need to carry around your organizer a lot. However, they have the largest capacity. Therefore, it is a great option for a more permanent organizer that can fit many sockets.

Pouch Organizer:
this type of holder can offer you a great selection of designs, they are quite simple to use because no installation is required, and this type is also quite portable. However, it also has some drawbacks. It can't offer you the level of organization inherent to other types.
Tray Container: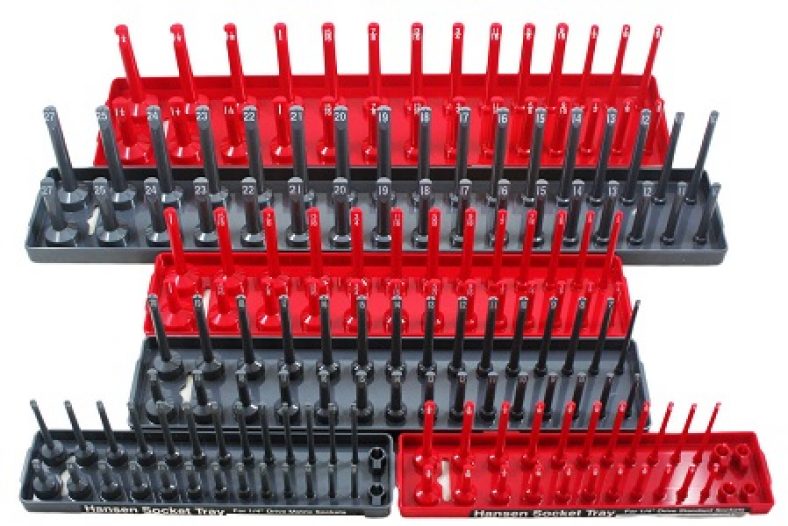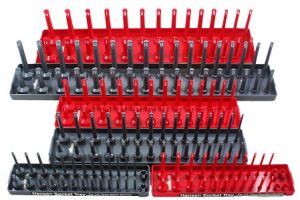 this one might be the best choice as it offers efficient organization and helps you find a specific socket faster and easier compared to other types. Using such a holder, you can organize your tools by size. Another benefit is the tray containers are quite compact and can fit inside small tool boxes.

Magnetic Holder: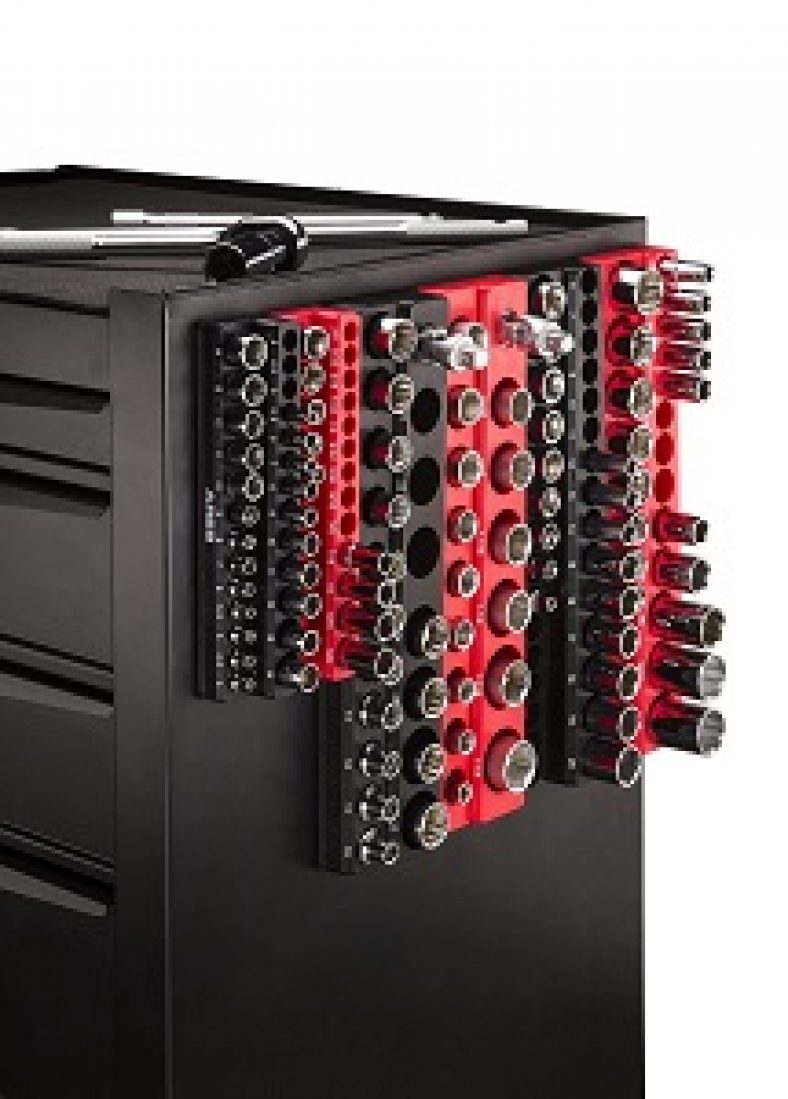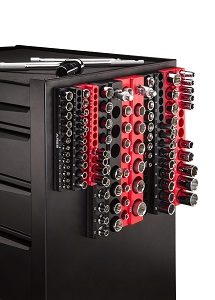 this is the most budget-friendly type. If you are looking for a high-quality holder at an affordable price, consider buying a magnetic holder. It can look like a flat bar that can be easily attached to any metal surface or it may have pre-drilled holes with a magnet that helps you see exactly where the sockets can be placed. It still has certain disadvantages. Such holder can collect too much metal shavings as you work and it's more difficult to maintain but aside from this, it is a good option at a nice price.

Rail System: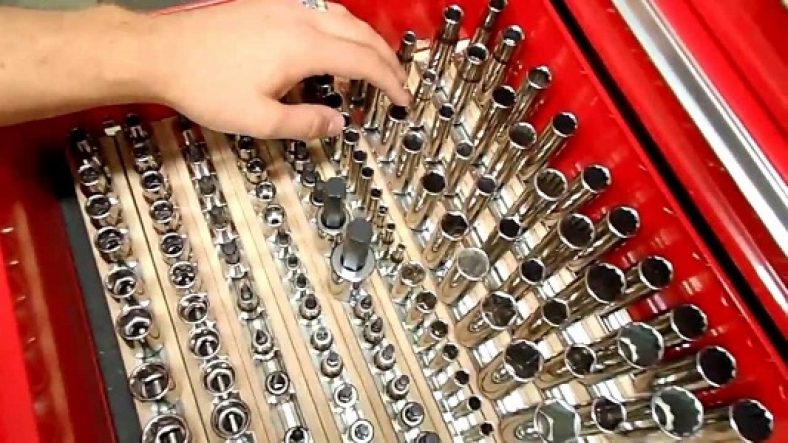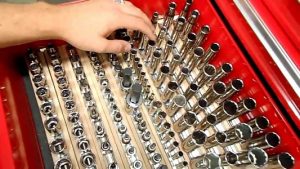 this is one of the most expensive options. It also requires assembly, so isn't the simplest one. The system uses sliding clips according to your sockets drive that holds your tools in place; it has a good capacity and doesn't require complex maintenance.
Best Socket Holder Reviews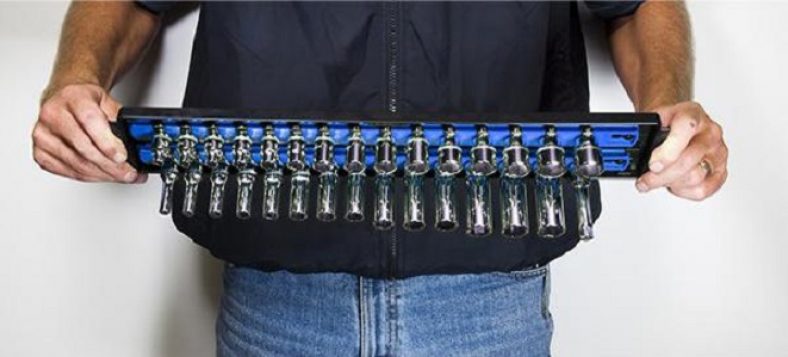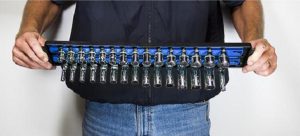 There is a wide selection of socket organizers. Therefore, making a choice can be quite difficult. However, to make this easier for you, Home'N'Roll has carefully selected the best choices for socket organizers based on the aforementioned features. Our review will help you choose the best option for your needs.
The Best Socket Trays For Durable Use
Hansen socket trays come in different sized sets They are made of durable materials, and can be purchased together with two convenient wrench racks if you wish. The price for a Hansen socket tray is average.
Performance: This model excellently performs its function. It serves well for organizing your tools in an efficient way and here are the main features the Hansen socket organizer has:
Allows to store both deep and regular sockets;
Has marked sizes to help find the needed tool instantly;
Securely holds each item.
Most people who have used it leave positive comments and highlight the products durability and convenience in use, which is a good sign it serves well. Therefore, we can recommend it for use.
PROS:
Helps store sockets of all sizes
Allows to find the needed items quickly
Made of durable ABS plastic
Comes in different sizes
This is a good socket tray organizer for its money. It makes organizing your sockets easy and convenient. Two advantages are its durability, which allows you to use it as long as you need, and universality which allows you to store all types and sizes of tools in one place.
The Best Portable Socket Organizer For Heavy Duty Work
The Olsa socket organizer is made of high-quality materials, which ensure its durability even in the roughest conditions. It is one of the best socket rails available at a low price. It is universal thanks to its multi-drive capability that offers rails in three sizes – 1/4 Inch, 3/8-Inch, and 1/2-Inch.
Performance: This model is great for quick and simple tool organization. Some of the main features it offers are:
Decent capacity that allows storage up to 54 sockets;
Can be used as a toolbox organizer or be attached to a workbench or wall;
Securely holds each socket.
We recommend this product as one of the best in this price range. It performs excellently, is durable, and portable.
PROS:
Portability and duration
Low price
Easy and convenient
CONS:
Capacity may be lower than some other options
This product by Olsa is the best toolbox socket organizer you can find at such a low price and the biggest advantages it has are excellent durability under heavy duty conditions and portability.
The Best Socket Rail Tray For Use On The Go
Ernst socket organizer is another great option. This socket rail organizer tray comes with three rails, which increases its storage capacity up to 45 pieces. It is good for storage on the bench, on the go, or in the drawer.
Performance: Ernst socket rails is a good model if you need to use your tools on the go or store it in the drawer, its main features are:
Fits up to 45 sockets;
Comes with 3 rails;
Uses a twist-lock system to prevent loss of tools;
Has 15 clips in total for 1/4-inch, 3/8-inch, and 1/2-inch drive items.
This model is made in the USA and has good features and shows excellent performance. Therefore, we can recommend it if you are looking for a relatively small (19.75 Inch by 5.3 Inch by 1.35 Inch) and a portable socket tray/organizer.
PROS:
Twist-lock system
Can be carried around easily
Affordable price
CONS:
Can't be mounted to the wall
This product by Ernst offers a great way of preventing losing your tools, it holds all items firmly and allows you to take it with you anywhere you go and is available at a pocket-friendly price.
The Best Among Cheap Socket Holders
Tekton socket set is one of the cheapest options on our list. However, it is not too bad for this price. It is made of high-quality nickel plated steel. It can be carried in a toolbox and is also suitable for attaching to a workbench or wall.
Performance: As for a cheap socket organizer, it performs well and has the main features you may look for in standard socket rail holders. It has a minimalistic twist-to-lock design. The features it has are the following:
Securely locks on tools;
Each rail can fit up to 16 items;
Features holders for 1/4, 3/8, and 1/2 inch drive tools;
Spring-steel socket clips
Made of nickel plated steel.
The Tekton socket organizer is a good option in a low-price range. We recommend it to people who are looking for decent features and cheap price, however, it may not be as functional as more expensive holders.
PROS:
Made in the USA
Available at a cheap price
Can be mounted to the wall
Easy to take with you
This is a good cheap sockets organizer that can help you organize and keep your tools all in one place.
The Best Socket Organizer For Keeping All Tools Together
The Craftsman impact socket set consists of six individual trays. Each metal socket tray has a number of pre-drilled holes for storing your adapters, sockets, ratchets, and extensions all in one place and within a short reach. It has quite a large storage capacity.
Performance: Craftsman socket organizer has an average price. However, it performs great compared to any other socket storage tray and it has much longer durability thanks to the high quality of the materials that were used. Some of its features are:
Weighs 3.3 pounds
Dimensions 2 x 11.3 x 18.3 inches
In total, this socket tray set fits up to 195 tools;
Versatile and suitable for storing sockets, adapters, extensions and ratchets all together;
Includes 36 riser pins;
Converts for deep well sockets.
We recommend this set to people who prefer quality and durability. This product is backed up by Craftsman's lifetime guarantee and can become your favourite socket organizer tray you can use for many years.
PROS:
Lifetime guarantee
High-quality materials
Consists of six trays and holds up to 195 items
CONS:
Inconvenient if you are going to attach it to the wall
This is the best socket holder that has a lifetime durability. It may not be convenient for a stationary use. It is not suggested to attach it to the wall. However, this set fits into the majority of bottom chests produced by this manufacturer, which allows you to store all your tools together in a smaller space.
The Best Magnetic Socket Tray Organizer For Real Professionals
The Husky socket organizer allows you to keep your tools organized in the most effective and convenient way. To hold your tools firmly and securely in place, this model features special ball bearings on the relevant socket tags, which prevents the loss of your items. For better organization, it has colour indicators for different drive sizes.
Performance: The Husky socket rail is extremely durable. It is made of high-quality materials and features strong magnets that make it easy and enjoyable to use. Here are some features it has:
Simple placement on any magnetic surface;
Strong magnets;
Long durability;
Studs that rotate and slide for easy positioning;
The product easily withstands wear and tear;
12-3/4 inches long.
This is truly the most worthy magnetic socket organizer tray. However, we wouldn't recommend it to you if you are an amateur who is just looking for a good organizer for your home tools because its price is quite high.
PROS:
Lifetime guarantee
Support for all customers provided by the manufacturer
Pressure, wear, and damage resistant
Ability to rotate and slide studs for higher convenience
This is not a good choice if your budget is limited. It is, without a doubt a high-quality product. However, we can suggest it to professionals, for whom decent organization of their tools is a priority and who are not ready to give up quality just to pay less.
The Best Socket Storage
Grip socket organizer is suitable for storing both deep and shallow sockets. It has convenient plastic nubs. One of its main advantages is it holds all your items hex up, which allows you to see the needed socket with ease, however, the hook hangers this model features are not strong enough to hold much weight.
Performance: In general, it works well for basic purposes. It has a convenient design that helps keep your sockets ready for use and it also helps find the needed tools quickly and easily. It offers the following features:
Heavy-duty moulded;
Has stubs for shallow and deep sockets;
Help keep tools well-organized and ready for use;
Includes 1/4, 3/8, and ½ Inch in metric & SAE
This model is a heavy duty and recommended for everyday use. However, it is not recommended for use if your collection of tools is too big because it can't hold too much weight.
PROS:
Colour-coded trays
Doesn't allow your tools to wobble during transportation
Holds shallow and deep tools
Simple in use
CONS:
Size lettering gets smudged quickly
The grip socket tray would be a perfect choice if you don't pay attention to some of its minor flaws like easily smudged lettering or weak hook hangers. However, it is still an option to consider.
What Is The Best Socket Organizer For Home And Car?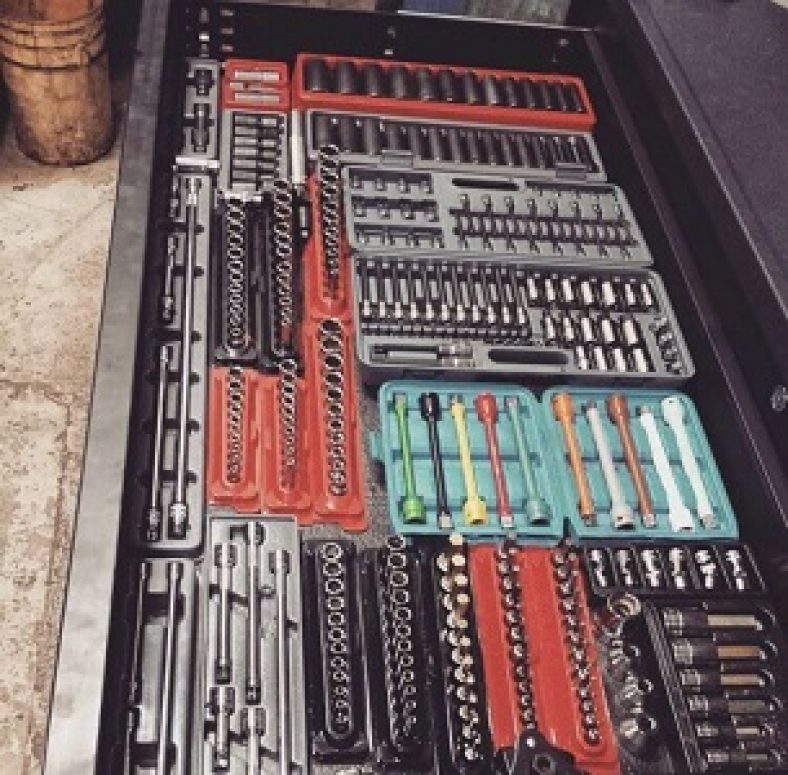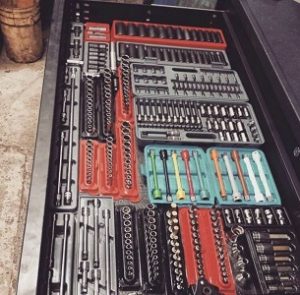 To conclude this article, let's once more recall the main features and characteristics to look for when searching for the best socket organizer:
Capacity;
Convenience and versatility;
Reliability;
Durability;
Type;
Flexibility and portability;
Mounting capacity.
Among other characteristics are price, purpose, size, and extra features that suit your individual needs.
All points from our list have these features and can be good options. However, if we choose the best one, it would be the Hansen socket tray because, despite its average price, this organizer is made of the high-quality plastic and offers excellent durability.
In addition, it is also simple and convenient to use because it allows you to store all types and sizes of tools in one place, and find the ones you need quickly. We also think it is the best as it can suit different purposes and comes in different sizes.
However, if you still can't find something that suits your needs, we can also recommend a few other options. What options to look at? The Lisle 40120 shows a longer lifespan thanks to high-quality magnets.
Also, Mechanic's Time Saver could be your perfect choice if you're are looking for a model with a simple lock and unlock system that you can easily take with you whenever needed.