Last updated on: May 19th, 2019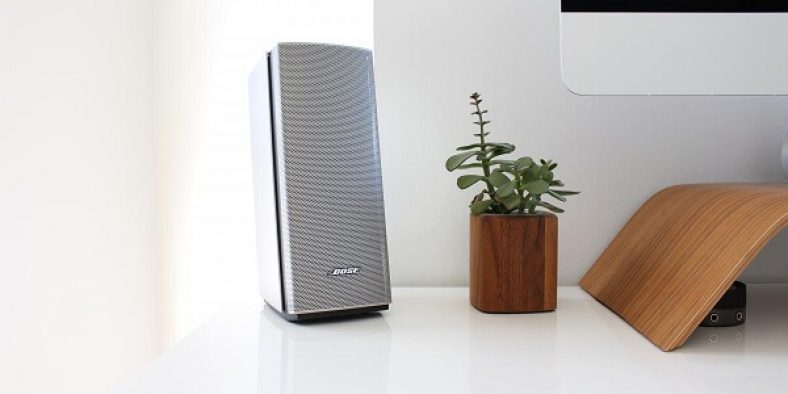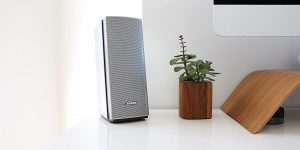 Imagine finding yourself with a disk of Rainbow Six Siege and a high-end gaming PC that is way above its league. You connect your computer speakers, add a mac and cheese filled pizza and here you have a recipe for some God sent entertainment.
You want to tune into a brilliant experience of tactical gaming. You have been promised a thrilling session loaded with guns, gears, and action. So far so good.
But then the moment you begin gunning down enemies, a terrible buzzing from your old set of computer speakers starts hammering down on your gaming experience. No matter how lucrative the deal, you simply cannot continue with the buzzing.
Disappointment and displeasure pulls down the curtain on your dream. There is hardly anything you can do. You want to buy the best computer speakers but they are costly.
Now hold on before you give up, because we have found what you need is a pair of high-performance speakers that are priced within your budget. That is exactly what you are going to find as you read on. Here is a review of the top 10 best computer speakers under $50 you can buy in 2019.
What Should You Pay Attention To When Buying Best Computer Speakers Under $50?
Although there is no standard benchmark to test speaker quality, you can still confirm sound quality if you know what to look for. Often speakers come with annoying frequencies but the best computer speakers will offer a balance in the treble, midrange, and bass. Usually, loudness hampers the quality of the sound. The maximum sound levels should produce the least amount of distortion.
Unless your purpose is restricted to gaming, you may need more options for input. Most computer speakers come with a single jack. However, many of them also offer a second jack or a port for plugging into USB to play music.
A 2.0 speakers system consists of two satellite units but no subwoofer, whereas 2.1 will have a bigger (heavier) third unit. The 2.1 speakers will let you enjoy music with bass but their setup and installation may need a bit of know-how. Setting up 2.0 speakers is easy and they are also more portable than a 2.1 system.
Which one of these systems you need depends on your purpose. For example, if you simply want to plug and play some music while you enjoy a cup of tea, then 2.0 is suitable for you. A 2.1 system will be perfect in the event of a weekend party.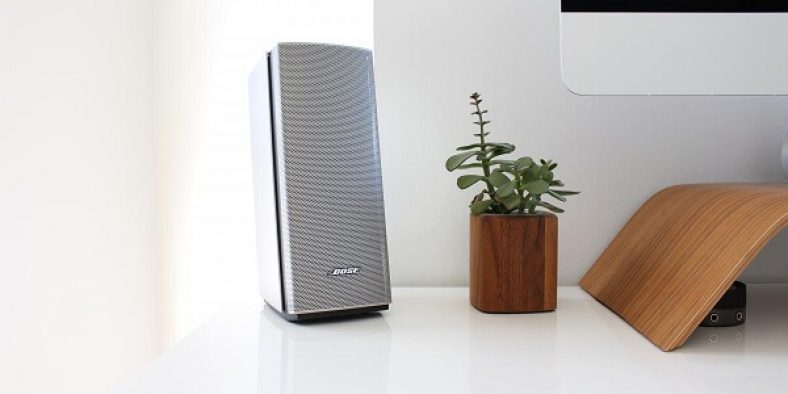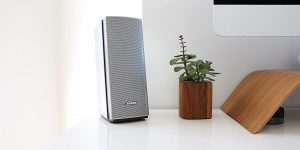 Although some say that the looks don't matter, you should consider the design and appearance of your computer speakers if you care about the interior of your living room.
The appearance of your computer speakers has nothing to do with the performance, so there is no harm in getting an aesthetically designed sound system.
Some people prefer simple and sleek designs while others may choose speakers with fiery colors and LEDs.
One must consider the different functionalities of good cheap computer speakers as these are often ruled out in a rush decision. Touch pads are progressively taking over traditional knobs and switches. In fact, these music systems actually look very stylish and trendy but remember, all that glitters is not gold!
Many touch screen or remote controlled PC speakers forget the sound settings, once they are turned off. You don't want to set the bass, treble, etc. every time you turn them on. This is something unlikely to happen in the case of speakers with turn dials.
Computer speakers with Bluetooth connectivity can be used with multiple devices. A USB port will allow you to play music when you are in the mood to just plug and play. Some speakers come with LED lights that may look good during the day but can be annoying at night.
Many computer speakers come with built-in audio controls such as power , volume , sound configuration, and play-pause buttons for USB devices.
Although portable Bluetooth speakers have buttons to adjust volume, they may not offer the functions to adjust the bass and treble.
Some speakers provide all these buttons in a separate control pod but consider that it just adds another annoying wire to your speakers' system.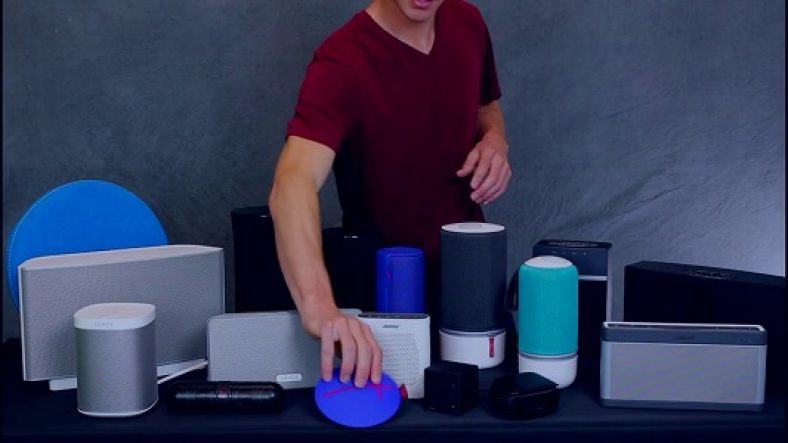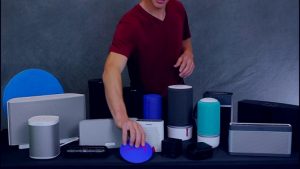 Despite an expensive price ranging, some brands may not actually offer value for your money. Unless you have great knowledge of the music and sound technology, it is important to consider the above mentioned point.
There are numerous best computer speakers under $50 that produce an excellent quality of sound. Meanwhile, customers often end up with a highly-priced speaker system with poor performance and terrible results.
Every sound speaker has a peak power output limit or the maximum amount of watts it can handle. A more sensitive speaker requires lesser wattage to produce a better quality sound but it is also more expensive. You may want to consider this as it directly affects the pricing of your speakers.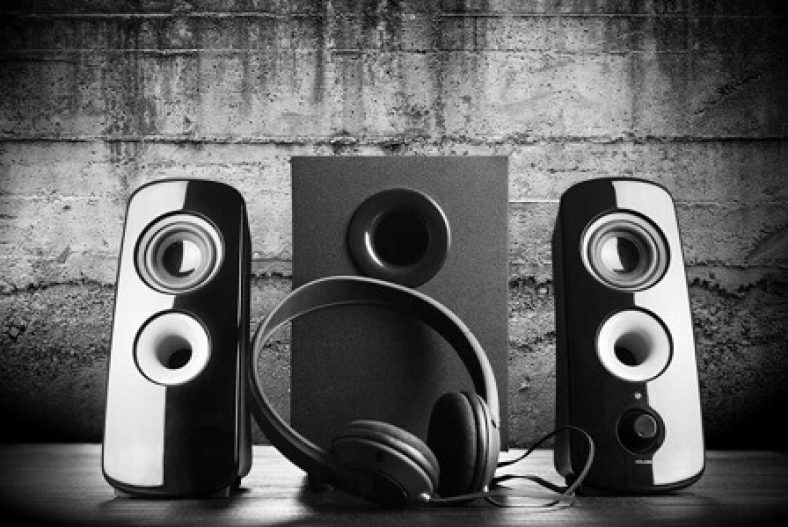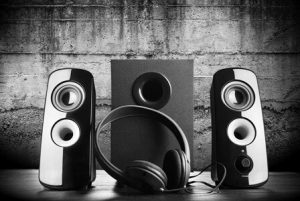 Usually, portable speakers have USB functionality. It is an advantage for small speakers as they require no additional batteries.
However, you cannot connect them to some notebooks and the new MacBook Pro, as they lack basic USB ports.
In such a case, look for computer speakers that are both USB and Bluetooth compatible.
Do all cheap computer speakers come with subwoofers?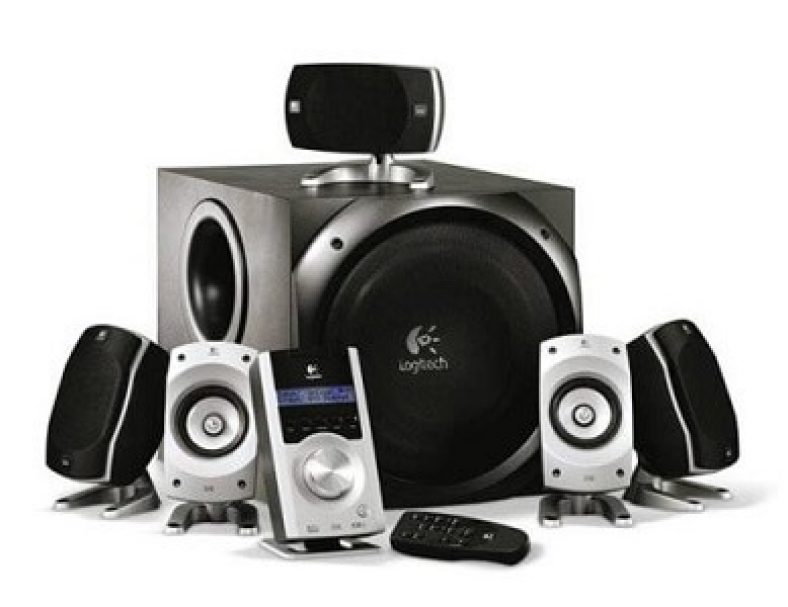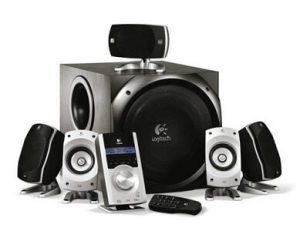 There are two types of computer speaker system as mentioned above. The 2.0 speaker setup consist of single or multiple drivers that are responsible for handling different frequencies like bass, mid-range, and treble.
However, the bass effect produced by 2.0 speakers is low quality. The 2.1 speakers system includes a powerful subwoofer that produces bass at low frequencies; meanwhile, the two satellite speakers handle the mid-range and higher frequencies only.
We have reviewed some of the good speakers for computers that come with 2.1 subwoofers below.
Why do my computer speakers buzz?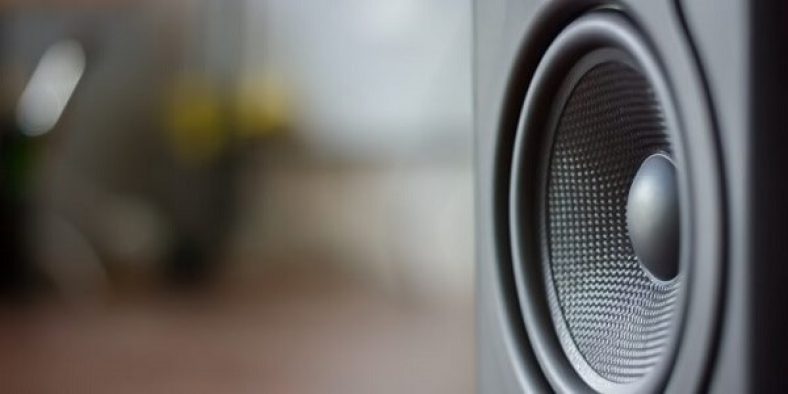 Buzzing from the computer speakers can be annoying especially when it occurs while you are trying to focus at work. It is most noticeable when there is no music playing in the speakers.
There can be many reasons for this buzzing sound, poor grounding being the most popular culprit. Using a 3 pin plug can help solve grounding issues.
Sometimes speakers start buzzing due to improper ports and cable connections. Reconnect all the wires tightly to see if the speakers still produce the annoying sound.
Remove any smartphone or any radio frequency transmitting device kept nearby as it may interfere with the audio transmission. The playback device itself can occasionally be the cause of the buzzing sound too.
Best PC Speakers Under 50 Reviews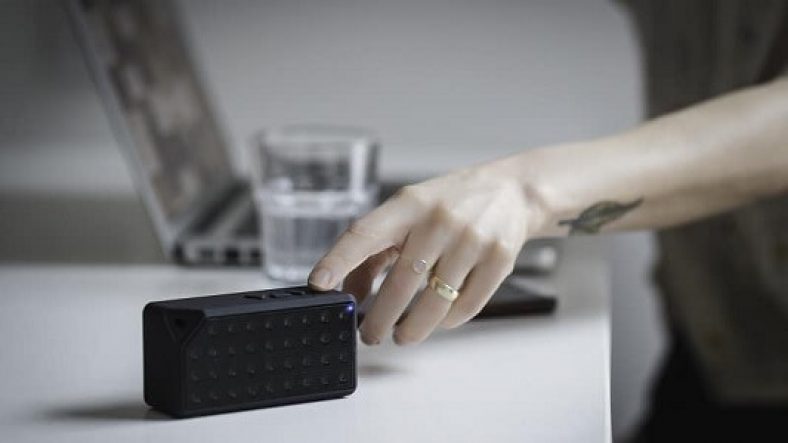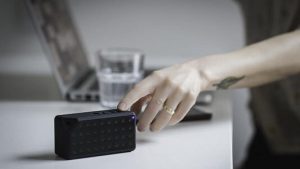 There is a large variety of computer speakers you can purchase under $50. You can easily find portable wireless speakers, 2.0 systems and sound bars in this price range.
Although there are a few 2.1 subwoofer systems available as well, but you should not expect them to turn your living rooms into a nightclub.
Finding the right ones that are suitable for your particular needs can be a little tricky.
Therefore, Home'N'Roll has carefully selected the best models of the best budget computer speakers based on the above points.
Best Wireless Speaker for Music on the Go
Play music from your smartphone, or ask a friend to quickly connect theirs as these AmazonBasics speakers come with advanced Bluetooth technology that allows you to plug and play on the go.
Amazon Basics speakers can be connected over a range of 33 feet. Best used while camping, cooking in the kitchen, working in the yard, or simply relaxing by the pool.
Features

Wireless connectivity with 2.1 + EDR technology, connects in seconds
Compact build, designed for portability – weighs less than 8 ounces and is only 6.3 inches wide
Dual internal full range 2.5-watt speakers produce rich bass with the least distortion
3.5mm aux in jack to connect to a PC and built-in microphone for hands free calling
8 hours of playtime on a single full charge and quick charging via USB
These AmazonBasics USB powered computer speakers with wireless connectivity are recommended for camping, living rooms, workshops, and small outdoor gatherings, thanks to their sturdiness and high-quality sound.
PROS:
Compact stylish design, wireless connectivity, long battery life, high-quality sound
AmazonBasics are the best inexpensive computer speakers that are portable and wireless, perfect for both indoor and outdoor use.
Computer Speaker with Subwoofer for Extreme Gaming
CA-3602FFP subwoofer speaker system is designed for powerful performance for indoor use. It comes with a convenient control pod to tune your music settings to your liking.
CA computer speakers can easily fill a large room with booming bass with 62 watts peak power and 30 watts RMS. The control pod allows you to have full control of the sound settings.
Features

Clear audio and powerful bass with 62 watts peak power and 30 watts RMS
Desktop control pod includes On/Off switch, volume and bass controls, headphone output jack, LED indicators, and a 3.5mm aux input
CA-3602FFP dual satellites use twin 2" drivers for crisp and clear sound quality, the wooden subwoofer holds 5.25" Power Pro bass driver
Ideal for large rooms in both offices and homes
Stylish satellite speakers with a piano black finish, easy installation
These CA computer speakers are recommended for a powerful movie and gaming experience on a desktop.
PROS:
Powerful bass, convenient control pod, 3.5mm aux input connection
CONS:
not suitable for wall mounting, no wireless connectivity
This sound system is best for desktop use where you can easily reach the control pod.
PC Speakers – Splashproof Perfect for Outdoor Travel Use
Its 4 in the morning but the party won't stop, because these Cambridge SoundWorks computer speakers have a surprisingly long 30 hour battery playtime.
With fast wireless connectivity, you can easily connect with any smartphone device. Moreover, Oontz Angle 3 Plus can be used in a shower or near the poolside as it can sustain a few water splashes with ease.
Features

2 precision acoustic drivers deliver crystal clear sound at 10 watts peak output, excellent unique bass radiator design for enhanced bass
Powerful 4400MaH battery provides up to 30 hours playing at 2/3 max volume
Wireless Bluetooth connects in seconds to iPhone, iPod, smartphones, tablets, laptops, etc.
Non-Bluetooth connections via 3.5mm AUX-in jack, built in MIC for hands free calls, supports micro USB charging
IPX5 water resistant, splash proof, rainproof, dustproof, sand proof – built for outdoor use
Portable Design just 13 ounces, and 6.5" long and 2.8" high
Cambridge Soundworks 2.1 PC speakers deliver distortion-free clear room filling sound. Their portable design makes them fit in a hiking bag, perfect for travel and weekend trips.
PROS:
Wireless connectivity, splash proof, 30 hours battery playtime, exceptionally loud sound
CONS:
Rubber body attracts dust
These are best affordable portable Bluetooth speakers, ideal for streaming music and podcasts at home, office, kitchen, bathroom, poolside, golf course, etc.
Bass Computer Speakers with LED Glow Lights for Gaming
With Gogroove BassPULSE 2.1, now you can transform your gaming PC into a cyber sports arena, or your living room into a movie theatre since this is exactly what it is designed to do.
With room filling sound from the satellite speakers and modern blue LED accent lights that pulse to the beat of the music, you can experience the entertainment coming to life.
Features

Dual neodymium 5 watts satellite speakers, side-firing 10-watt subwoofer with heavy bass and 40 watts of peak power
Modern blue LED lights designed with bold flare and to pulse with music beats at 80%+ bass setting
Front loaded volume control, 3.5mm AUX-in jack to connect with smartphones, TV, tablets, PC and laptops.
Aesthetically built with excellent dynamic high sound, warm mid-tones and powerful bass
Backed by a 3-Year Manufacturer's Warranty
The GOgroove BassPULSE computer speakers are recommended if you want to impress your friends with stylish décor while streaming music, movies and or gaming.
PROS:
powerful bass, stylish LED lights, easy installation and setup, 3 yr manufacturer warranty
BassPULSE is the best 2.1 computer speaker under $50 for those who want to add style to their gaming or music experience.
Budget Computer Speakers with Control Pod
These Logitech computer speakers with subwoofer deliver plenty of power to fill your room with rich sound that will change your music and gaming experience.
It comes with a multi-utility control pod that allows you to easily adjust the volume and connect headphones when you feel like being one with the music.
Features

Dual satellites deliver 25 watts (RMS) of power, balanced room-filling sound
Powerful subwoofer with heavy bass and a compact design allows them to fit into tight spaces
Connect with smartphones, TVs, laptops, iPods and tablets using a 3.5 mm headphone jack input
Easy installation setup to plug and play music, watch movies and gaming on the go
Convenient control pod brings volume and headphone controls at your fingertips
Logitech computer speakers Z313 are recommended for music and gaming, but not for watching movies as they lack a bass control function.
PROS:
powerful subwoofer, handy control pod, durable & compact design
CONS:
missing bass control function
These 2.1 computer speakers with subwoofer are perfect for people who enjoy gaming and music with heavy bass.
Multimedia Cheap Speakers for Desktop – Ideal for Podcasts
If your built-in computer speakers sound terrible whenever you want to play your podcast, this Logitech S120 2.0 desktop speaker system is the best alternative.
Logitech brings you the best computer speakers under $50 when you are in the mood for simple relaxing music. In fact, this cost much cheaper than others in our review since it is built for an effortless experience.
Features

2.0 stereo with 2.3 Watt output power, response bandwidth 50Hz-20KHz
Weight under 2 pounds and about 7" tall, perfect for desktop use
3.5mm headphone jack can be used to connect an mp3 player, smartphone or laptop
Compact design that uses less space, yet delivers high-quality sound
Handy built-in knob for adjusting volume, charging via AC power supply – no USB required
TLogitech S120 2.0 is built with an edgy design, recommended for those who want simple relaxing music. Do not expect high performance or heavy bass for gaming and movie purposes.
PROS:
compact design, convenient volume control, 3mm jack for wired connectivity, best price
These desktop computer speakers are ideal for use at home or office for less demanding performances.
Wired Computer Speakers Sound Bar – USB Powered Best Cheap Speakers for Computer
Boost your computer sound without compromising valuable desk space using TaoTronics wired computer speakers. This sound bar delivers impressive cinema-style audio, maintaining quality even at full volume.
It has a compact build and sleek design which will add a modern look when placed in front of your PC or TV. Additionally, it comes with a giant volume knob with LED accents to set the ambiance.
Features

Higher sound quality than other sound bars in a similar price range, distortion free sound at maximum volume
3.5mm AUX jack connectivity to stream music using smartphones, tablets and TV
USB powered, instantly plug in the laptop port and start streaming music
Sleek design 16" inch sound bar that adds a modern look to your PC, weighs 1.40 pounds
Built-in headphone MIC to enjoy movies and gaming in private
TaoTronics sound bar is recommended for those who enjoy late night movies or gaming. It is easy to set up and provide a hassle free music experience.
PROS:
Easy setup, high-quality sound, modern stylish look, 3.5mm connectivity
These are good computer speakers under $50 for a personal movie or gaming experience.
LED Computer Speakers Stereo 2.0 USB Powered – Best budget computer speakers 2019
Add a nice ambient effect to your desktop with Sanyun SW102 LED speakers. Plug in the USB and get ready to fill your room with music and movies. These computer speakers deliver a 360 degree sound effect which will surely lighten up your mood.
Built to save valuable space on your desk, these 2.0 compact output devices are just 3" tall with maximum 10Watts of power.
Features

Durable metal and plastic construction to deliver steady vibration-free sound effects
Fantastic sound quality with 2.0 channel stereo speakers, built-in bass diaphragm to generate a basic bass effect
USB power supply, plug directly into PCs and laptops, or connect via 5V AC adapter
3.5mm AUX jack allows you to stream from mp3 players, iPhones, or tablets
Small compact size saves a lot of desk space, easy to carry – weighs 1.15 pounds
If you want to liven up a party, consider something else because Sanyun SW102 is built for light performance. It will fill your room with stereo quality sound but do not expect heavy bass.
PROS:
Compact design, high-quality sound, USB powered, multi-purpose 3.5mm AUX
CONS:
LED lights cannot be turned off
These are the best low cost computer speakers ideal for personal desktop use.
Cheap Wireless Speaker for The Best Sound
Enough with the volume knobs and buttons, DOSS Touch speakers offer you the ability to play and pause using sensitive elegant touch controls. Adjust the volume by rotating your fingers clockwise in style.
Now you can enjoy high-quality sound over a long stretch of 12 hours. The compact size of this device is suitable to pack them in your carry bag.
Features

High definition stereo sound using 12W powerful dual drivers that also deliver enhanced bass
Touch control buttons, stylish blue LED finger touch rotation to adjust the volume
Built-in Li-Ion 2200mAh rechargeable battery – delivers 12 hours of playtime at 75% volume
Wireless Bluetooth 4.0 connectivity, auto-reconnects with the last paired device
Compact metal body designed for portability, suitable for outdoor parties, weekend travel, hiking, camping, etc.
If you are looking for portable computer speakers with bass to energize a small outdoor gathering, then DOSS Touch speakers are a great choice for you.
PROS:
wireless connectivity, 3.5mm AUX & Micro SD support, sensitive touch buttons, highly portable
CONS:
metal body makes the device heavier
Wireless DOSS Touch can be your best outdoor companion during hiking, biking, camping or traveling.
What are the best computer speakers under $50?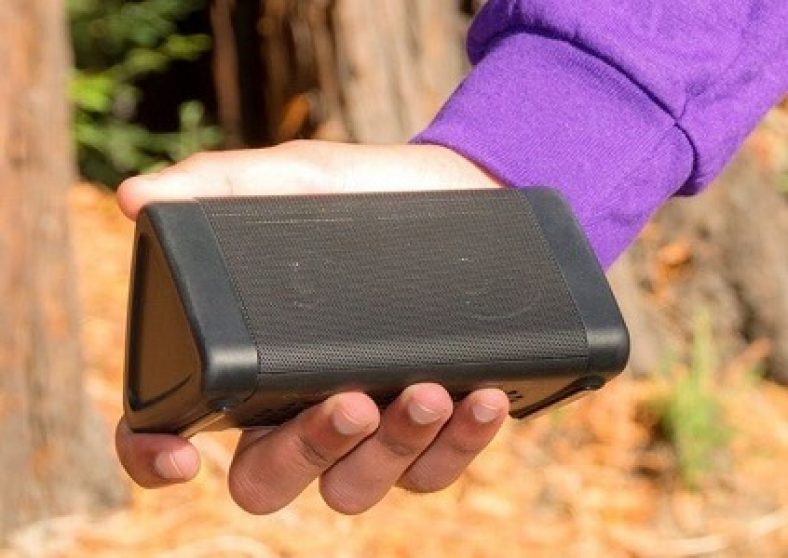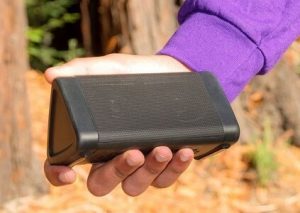 The choice can be difficult when you are on a tight budget. There is nothing much that can be expected in the sound quality as most of these speakers will sound just fine considering price.
Some other main features you should look for are wireless connectivity, volume/bass controls, and battery playtime if the speakers are portable.
In our opinion, OontZ Angle 3 Plus by Cambridge SoundWorks are the best computer speakers under $50. This is because of the long 30 hours playtime, wireless connectivity, and splash proof body that is durable and is highly portable.