Last updated on: May 28th, 2019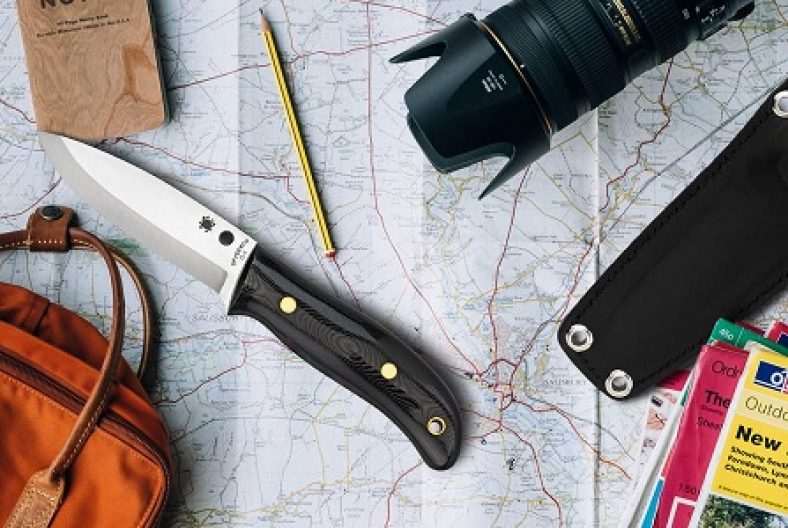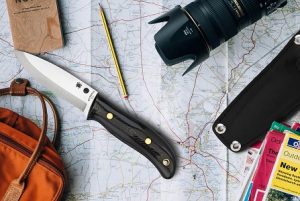 Are you a manufacturer, woodworker or hobbyist? Are you searching for a productive high quality bushcraft knife but want to purchase a great tool for the money? If you are eager to buy a bushcraft knife and need help to make a decision, this article will provide valuable advice, especially if you are on the threshold of buying a new tool.

If we think of bushcraft in its purest sense, there are three basic jobs where we are going to need a knife:
1) Building shelter;
2) Starting a fire;
3) Catching and preparing food.
That means you would optimally have a knife that is precise and comfortable enough to do fine work like feathering or skinning, sturdy enough to cut firewood, and a good enough to carve spears, stakes, frog gigs, etc.
Naturally, every customer wants to get the best for less. Even after excluding the most costly knifes, the price range in bushcraft knives appears beyond the reach of many potential buyers. Nevertheless, nobody wants to work with low quality tools.
In this article you will find the solution to your problem. We know the bushcraft knife is probably the most useful single tool the average outdoor enthusiast is going to have, because the work it does serves as a base for all that comes afterward. So, in paragraphs below we will give you our best bushcraft knives 2019 for the money.


What You Should Pay Attention To When Buying bushcraft knife
1. Types of knives:
Survival Knives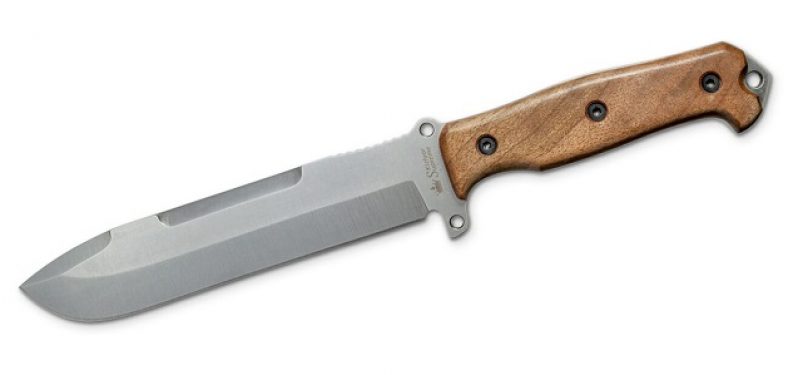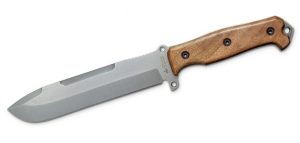 Survival knives have a fixed blade you can use for "anything." These are jack of all trade knives that are used for breaking glass, prying open doors, cutting into thick materials and have a set criteria.

Pocket Knives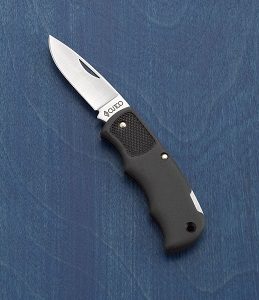 Pocket Knives are folding knives that you carry with you. It's smaller and can be used for a variety of different tasks.

Bushcraft Knives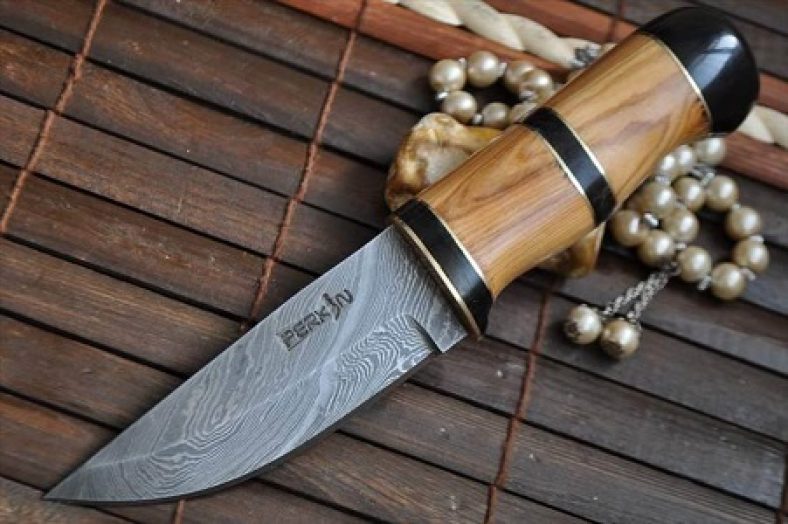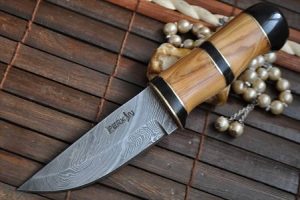 Bushcraft knives differ from survival knives and pocket knives. A Bushcraft knife should be considered as primarily a wood cutting tool and can be used effectively on wooden objects. It typically will not resemble a tactical knife look wise and should have a blade that's 3 to 6 inches in length. The shorter edge allows the bushcraft knife to be more maneuverable. Bushcraft knives should feature a full-tang fixed blade. They should also have a flat grind and have a drop point blade, like many of their survival knife cousins. Handle material may include wood, micarta, dense rubber, or a firm plastic.

The blade (Blade type: fixed blades or folding knives)
Fixed blade knives — those with a blade length of approximately 4 inches. This is a size that is well suited to, and favored for a variety of tasks associated with bushcraft, outdoor and sporting use. It's a blade that is available in many forms. Fixed blade knives are more purposeful tools than folding knives. While they are serious tools, they are also often beautiful and designed for aesthetic as much as purpose. Folding knives can be with manual, automatic, or assisted opening and are convenient to carry in your pocket.
Type of steel (Stainless Steel or High Carbon Steel)
Stainless Steel: will require more sharpening but will hardly ever rust. It's a harder steel which makes it more of a pain to sharpen. It will typically require less maintenance but also not hold as sharp of an edge. High Carbon Steel will rust faster, but hold an edge longer. It's also softer which makes it easier to sharpen. Oil the blade frequently to keep it rust free if you live in a wet climate. Which steel is best for a Bushcraft knife? If you are a collector, either type of knife steel is fine. If you have only one knife, Stainless will allow you to have more versatility with the knife and less maintenance. When it comes to bushcraft, brush clearing, and survival knives you may carry daily, high carbon is great. High Carbon knives may make more sense if you look at it for specific jobs.
The handle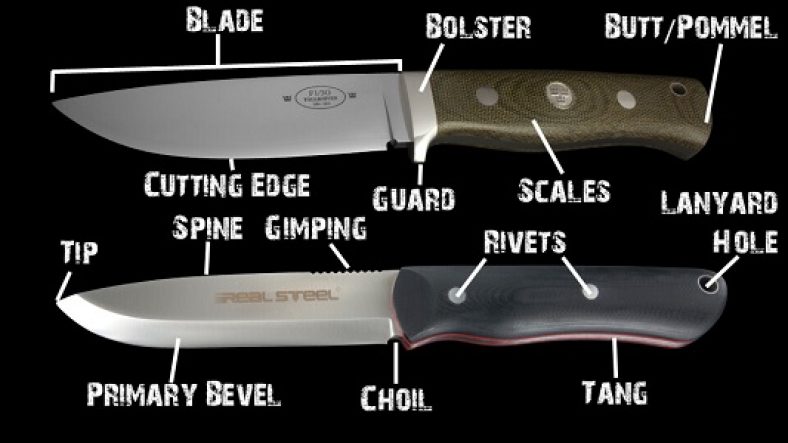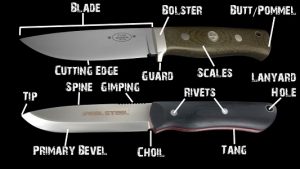 It's important for the handle of your bushcraft knife to be anti-slip and convenient to hold. Handles vary in material and may include wood, micarta, and dense rubber, or firm plastic. Handles should be extra-large, ergonomic, and have a patterned high-friction grip that will perform well in wet and cold conditions. The knife must sit comfortably in your hand providing greater control, safety, and performance.

Serrated edge
A type of blade used on some knives. It is also known as a dentated, sawtooth, or a toothed blade. A serrated blade has a cutting edge. By having less contact area than a smooth blade, the applied pressure at each point of contact is greater and the points of contact are at a sharper angle to the material being cut. This causes a cutting action that involves many small splits in the surface of the material being cut, which cumulatively serve to cut the material along the line of the blade.
Bushcraft knife Buying Guide
Now you are informed with a variety of bushcraft knives. Regarding the aforenamed features. The Cozyholic carefully selected the best models of the best bushcraft knife based on the above points. Here is the list of the best bushcraft knives 2019 under 50, 100 and 200.
Best bushcraft knife under 50
Morakniv Bushcraft Carbon Fixed Blade Knife with Carbon Steel Blade, Black, 0.125/4.3-Inch – STEEL BLADE
Handle Material: Molded Rubber
Weight: 5.7 oz (with sheath)
The Bushcraft black high carbon steel 1/8 inch (3.2 mm) thick blade is extremely sharp, durable, and is hardened to HRC 56-58 standards to better withstand stress on the blade when batoning. The black coating helps protect against corrosion. For further corrosion resistance, oil carbon blades after each use. The back of the Buschraft Black blade (spine) has been ground especially for use with a fire starter. It also has a scandi grind that prevents the knife from slipping off easily. The knife bites into a surface without getting stuck, is razor sharp, and stays sharp. The blade is relatively thin making it easier to carve, yet robust enough for batoning and other demanding outdoor activities.
The Morakniv Bushcraft Black handle is an over-molded rubber grip that provides great anti-slip performance and works extremely well in wet and cold conditions. It sits comfortably in your hand giving you greater control, safety, and unbeatable performance.
Good for batoning, carving, feather stick and fire starting.
PROS:
Steel, durable and sharp blade
Anti-slip handle
Able to withstand high stress
CONS:
The blade can and will rust where it is not coated.
Recommended by users.
With a razor-sharp, burly 1/8-inch (3.2 mm) thick carbon steel blade treated with a tungsten DLC anti-corrosive black coating, the Morakniv Bushcraft Carbon Black Knife will be one of the strongest and most dependable knives you own. Morakniv knives made from high carbon steel achieve high hardness, sharpen easily and are exceptionally tough. High carbon steel ispreferred in applications that demand durability and frequent regrinding. The material is harder than stainless steel, allowing it to take a sharper edge. The blade is annealed to 56-58 HRC standards to better withstand stress on the blade when batoning.
Schrade SCHF36 10.4in Steel Fixed Blade Knife with 5in Drop Point Blade and TPE Handle for Outdoor Survival Camping and Everyday Carry-FEEL SECURE
Overall Length: 10.4 inches
Blade Length: 5 inches
Weight: 5 Oz (with sheath)
Schrade takes pride in creating trustworthy knives that are perfect for all outdoor adventures. Whether you are hiking, camping, bushcrafting or any other activities, Schrade is the strong performing tool you need.
This knife features a ferro rod, sharpening stone, and a lanyard hole. Quick and easy access with a convenient polyester belt sheath. With the security of the front quillon, thumb and grip jimping and finger choil have confidence that the blade will not slip. The blade is made of reliable 1095 powder coated steel with a black ring textured TPE handle.
PROS:
1095 powder coated steel blade
TPE Handle
Polyester sheath for easy carrying
Anti-slip handle
Recommended by users.
This knife has excellent value, making it a top wallet friendly pick. This knife is great for chopping as well. Grabbing the knife by the end can make this a very effective yet maneuverable tool for chopping wood and creating points.
Morakniv Companion Heavy Duty Knife with Sandvik Carbon Steel Blade, 0.125/4.1-Inch – CUSTOMER CHOISE
This Morakniv knife is made from high carbon steel, is exceptionally tough, and combined with the classic Scandi grind are easy to re-sharpen. The extra-large, ergonomic handle has a patterned, high-friction grip that performs well in wet and cold conditions.
The knife sits comfortably in the hand providing greater control, safety, and performance. Includes a color-matching, hard plastic sheath to keep the knife secure. Features include a belt clip for convenient carrying and a drain hole.
PROS:
Strong, robust and sturdy handle provides a tack grip for secure handling.
Carbon steel blade
Ergonomically correct. Fits in the contour of your hand
CONS:
Customers didn't see any cons after use
Recommended by users.
Weight of the knife is ideal! For the thickness of the blade, the weight is proportionally distributed. A carbon steel blade with a scandi grind which is great for regrinding. This provides added strength to your blade and its longevity. Tight and snug fit into the sheath with zero wiggle room or movement.
Morakniv Craftline Pro S Allround Fixed Blade Utility Knife with Sandvik Stainless Steel Blade and Combi-Sheath, 3.6-Inch – EXTREMELY CONVENIIENT
Blade Thickness: 0.08 in (0.2 cm),
Blade Length: 3.6 in (9.1 cm),
Total Length: 8.25 in (20.9 cm),
Net Weight: 4.0 oz (115 g)
The Morakniv Craftline Pro S Knife features a fixed blade made of specially selected, hardened stainless steel that allows it to stay sharp longer and withstand higher loads. A finger guard offers additional safety. Included with the knife is a hard plastic Combi-Sheath, which provides a quick-connect feature for attaching a second knife and sheath.
The ergonomic handle is made of TPE rubber with a coil-formed rounding process that delivers extra grip and control. Limited lifetime manufacturer's warranty.

PROS:
Stainless steel blade
Ergonomic TPE rubber handle provides optimum grip
Hard plastic Combi-Sheath allows for the connection of a second knife and sheath
CONS:
Customers didn't see any drawbacks
Recommended by users.
The composition of the Sandvik stainless steel blade on the Craftline Pro S is ideal for working in marine, fishing, outdoor, and construction applications where knives see hard use and are commonly exposed to dirt and moisture.
Best bushcraft knife under 100
Ka-Bar Becker BK2 Campanion Fixed Blade Knife – DURABLE TOOL
This lightweight knife features a durable, 1095 cro-van steel blade, perfect for splitting kindling, skinning game, or chopping onions for the campfire. This knife features a drop point blade shape and a versatile 20-degree blade angle. The comfortable handle is made from grivory, providing a balanced grip for any outdoor chore.
The flat blade is 5,5 inches long and the overall length is 10,5 inches. The knife includes a glass-filled nylon sheath to keep the blade safe and sharp. Made in the USA, the Companion knife and tool is tough enough to handle all your outdoor adventures.
PROS:
Made of carbon steel
Convenient handle
20-degree blade angle
Recommended by users.
For all those who camp, hunt, or spend time outdoors. The Companion works just as happily splitting up kindling as it does prying apart joints and skinning game, not to mention chopping onions for the campfire chili!. Once you secure the knife in the sheath, there is a spot on the back of the sheath where you apply pressure with your thumb to release the knife. The knife locks into place for safety, so it doesn't fall out.
Ka-Bar Becker Knife with Drop Point, Short – SOLID DESIGN
Modestly sized field knife perfect for belt or pack carry. It's made as a solid one piece design. The blade's upper edge has a convenient ridged thumb serration area to help with control during pressure cutting. This knife has been flat ground to maintain strong edge retention. It also provides for easy sharpening even in the field.
The ergonomics of the handle are great. It sharpens relatively easily. The design of the blade allows it be slim enough to be a good slicer, but beefy enough to handle some batoning. It can quickly become your everyday carry knife.
PROS:
Very rugged
Handles both heavy-duty and delicate jobs well
Comes with ferro rod and sharpening stone extras
CONS:
Poor ergonomics
Nylon used for the sheath is not high quality
Recommended by users.
This knife held true to Becker's norms, sharp out of the box, and requiring some minor scale adjustment to re-align them with the tang. Due to the small size of the knife any serious processing of larger pieces of wood is best left to larger blades. It can do some very light chopping but it doesn't have the requisite forward weight or length for any real chopping. That being said, this knife is well paired with a larger knife or an axe.
Condor Tool & Knife Condor Tool and Knife CTK232-4.3HC Bushslore Survival Knife – WORTHY PRODUCT
The Bushlore Survival Knife from Condor Tool and Knife traces its proud history back to 1787, the year Gerb Weyesburg Company was founded in Solingen, Germany. The knife is complete with a sand blasted satin finish. The hardwood handle scales provide a classic look and the scales are held securely by two brass rivets. A leather sheath is included.
Handle materials: Hardwood, micarta
Blade length: 4.3125 inches
Handle length: 5 inches
Weight: 0.80 lbs
Dimensions: 9.31" x 1.25" x 0.75
PROS:
Blade is easy to sharpen
Wooden handle
Stainless steel blade
CONS:
The micarta handle is tacky when wet.
The traditional high-carbon steel will rust unless you keep it oiled.
Recommended by users.
This knife has excellent value, making it a top wallet friendly pick. This knife is great for chopping as well. Grabbing the knife by the end can make this a very effective yet maneuverable tool for chopping wood and creating points.
Best bushcraft knife under 200
Fallkniven F1, Thermorun Handle, Plain, Zytel Sheath –RATIONAL CHOICE
Overall length: 8 1/4″ Blade: 3 3/4″ laminate VG-10 stainless drop point blade witha satin finish.
Black checkered Thermorun elastomer handle with a visible tang end and lanyard hole.
The low-maintenance stainless steel blade keeps its edge and isn't difficult to sharpen. A couple of licks on the strop and it's ready to go again. It has good blade design with low maintenance but the greatest sharpening learning curve.
PROS:
Great edge retention, easy to restore back to razor sharpness.
Safest and most ergonomic handle
Best blade thickness
Recommended by users.
The Fallkniven F1 VG10 is the quintessential companion knife, it is a great for backpacking, camping, hunting, and day hikes. Its size, shape, weight, and balance are "just right." Not too big, not too small. Some may not like the thin handle, but it works better for holding onto while cutting than other thicker handles.
Benchmade – Bushcrafter 162 Knife, Drop-Point – FOR ALL OUTDOORS
he Bushcrafter 162's drop-point, utility blade style and all-around functionality make it ideal for outdoor activities, survival use, and even tactical applications. The 162 is modern, good-looking, and easy to hold. The leather sheath is durable and features a belt loop and D-ring for ultimate accessibility.
Overall Length: 9.2 inches
Blade Length: 4.43 inches
Blade Type: Drop Point
Blade Material: S30V Stainless
Rockwell Hardness: 58-60 HRC
Handle Material: G-10 Plastic
Weight: 7.72 oz.
PROS:
Steel blade
The simplicity of the knife also makes it easy to clean.
The smooth polished blade glides cleanly and predictably (thus more safely) through any task.
CONS:
No drawbacks according to feedback
Recommended by users.
The CPM-S30V stainless steel blade is well-balanced offering superb edge qualities and rust resistance. The G10 handle is durable, impervious to moisture, and stable under extreme temperatures, making it ideal for outdoors.
What is the Best Bushcraft Knife?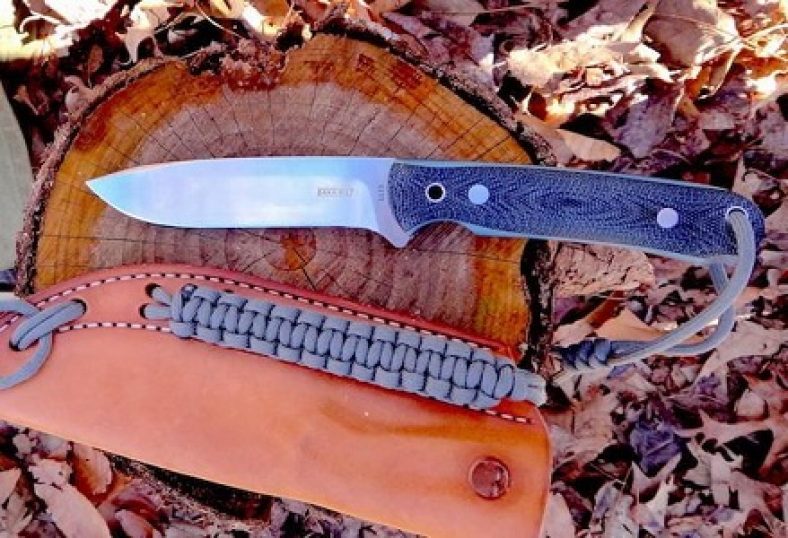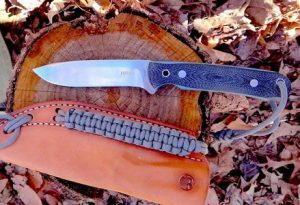 We realize purchasing a knife is important for our readers . So, this article highlights essential features potential buyers should consider in selecting a decent bushcraft knife. A potential purchaser should have an understanding of the main features to make a good choice. They have to pay attention on the type of a knife, the blade, grade of steel, the handle, and if there is a serrated edge etc.
After comparing the 10 best bushcraft knives for 2019, it became obvious the Morakniv Companion Heavy Duty Knife with Sandvik Carbon Steel Blade, 0.125/4.1-Inch is our top budget recommendation for a bushcraft knife. It has distinguishing pros and works excellently on both hardwood and softwood. Morakniv knives made from high carbon steel achieve high hardness, are exceptionally tough, and combined with the classic Scandi grind, are easy to re-sharpen.
A great tool for chopping small branches, carving and prepping kindling for a fire, or use it to carve tools that can be used within your campsite or for survival. Easily carve some fresh kindling that will assist with fire starting or create a feather stick that is helpful when starting a fire with damp wood or without kindling.
If you are looking for more details or accessories, check back with our site to learn the best products of 2019.