Last updated on: May 19th, 2019
A trampoline is every child's dream and to be honest, every adult's desire as well. Trampolines are created out of a steel frame and a piece of sturdy fabric stretched between the frame.
Contrary to popular belief, the fabric trampolines are made of is not what gives the elasticity that makes it possible to jump; the flexibility is the result of the coiled springs that are used to connect it to the frame.
Trampolines are used either for recreational purposes (kids have a blast jumping on them!) or in competitions. Whatever your reason for buying a trampoline, you should choose carefully. To assist you, we will provide a review of the best rectangle trampolines on the market as of 2019.

What You Should Pay Attention To When Buying A Quality Rectangle Trampoline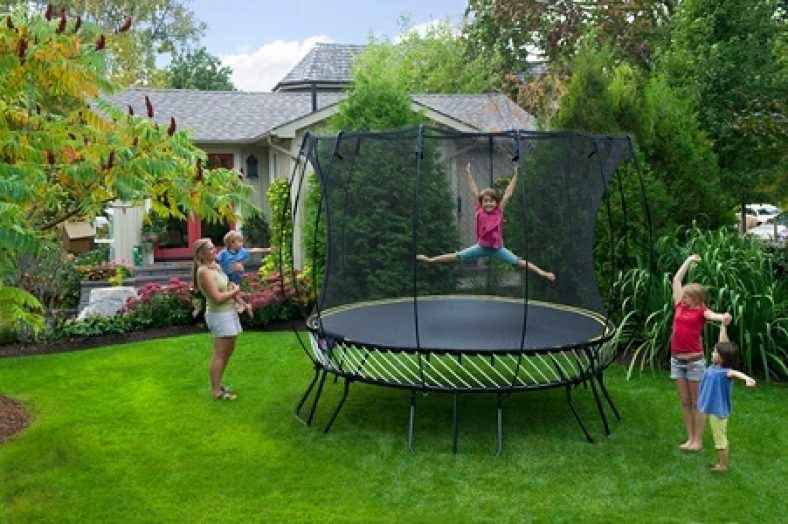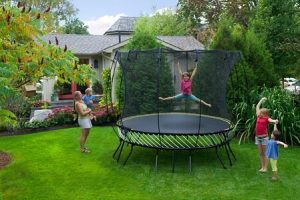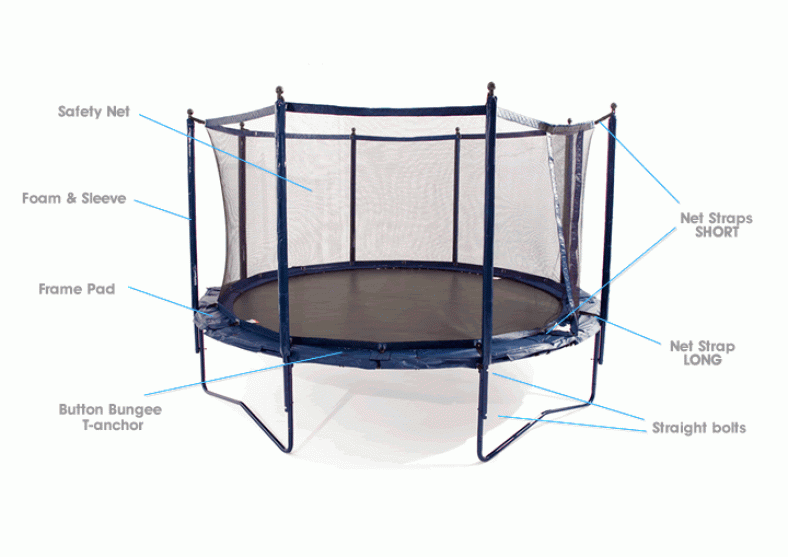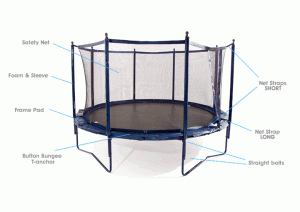 To choose the best rectangle trampoline to satisfy your needs, know whether you plan to use it for recreational or competitive purposes.
If you want a professional rectangle trampoline, you don't need to break the bank, you can find an affordable quality trampoline that gives you a good bounce if you know what you are looking for.
Here are a couple of things that you should look for when deciding to buy a rectangle trampoline.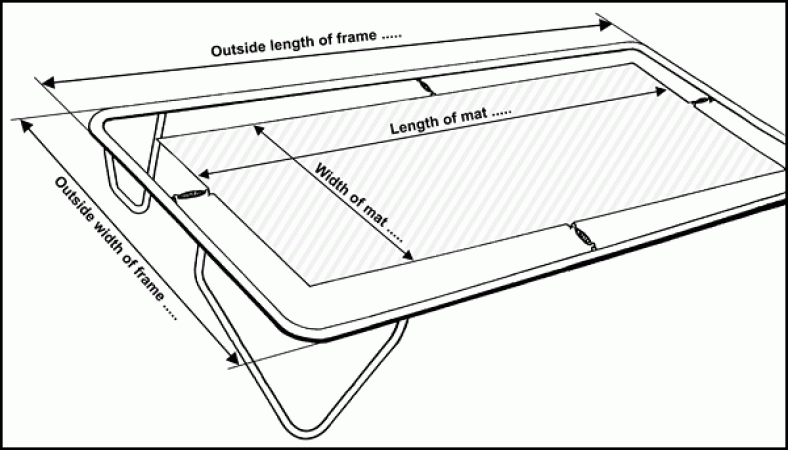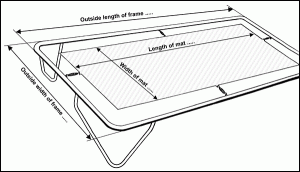 Trampolines come in different designs to choose from: round, oval, square, rectangle,long, and their sizes vary from compact to huge Round trampolines are the most common on the market, but if you are thinking of buying a trampoline, we suggest a square or rectangle shape as they have a bigger jumping surface and offer the best bounce.
Competitive trampolines use a rectangle surface, usually made of webbing. As stated, the material is not elastic – the springs provide the elasticity. The trampoline's surface is supported by a collapsible steel frame, which is crucial so it can be transported to competitions.
The second type of trampolines are those used for recreation in the comfort of people's homes. Rectangular outdoor trampolines do not have as sturdy construction as competitive ones, and you should expect its springs to be weaker.
If you are thinking of buying one for your backyard, a cheap rectangle trampoline will do just fine. Unlike competitive trampolines, in-home rectangular trampolines are not the only ones used: you can find them in circular, square or octagonal shape as well.
Another difference is that they can be both with or without springs, and the number of legs at each end can differ.
Jumping Safety and Protection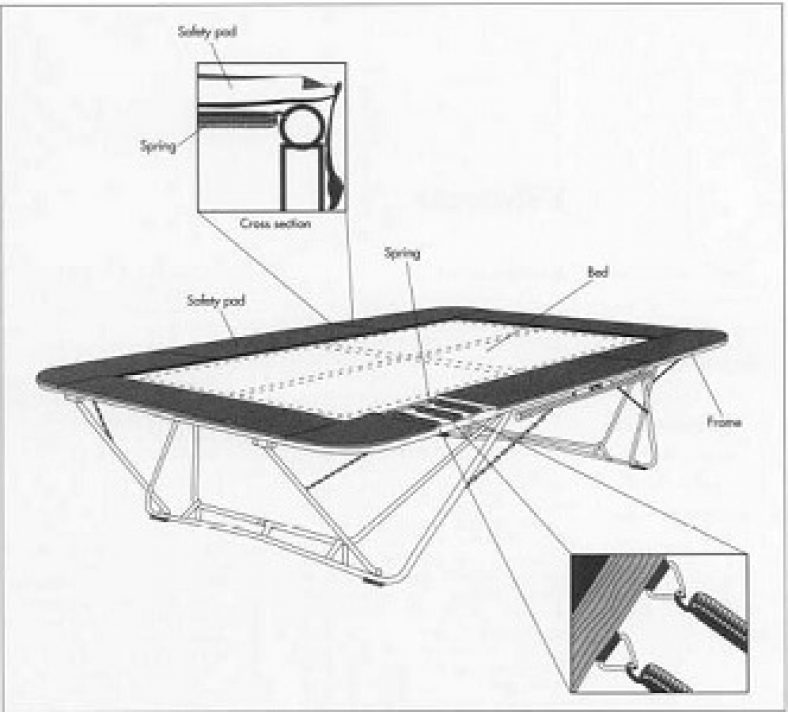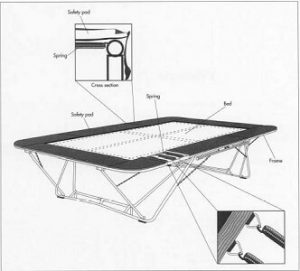 As we've already said, rectangular trampolines provide a greater bounce than oval and round trampolines. This means that it is imperative that you choose a trampoline with a safety net.
You can find a rectangle trampolines without a net but rectangular trampolines with nets are more common. Price should not worry you: cheap rectangular trampolines with enclosures are also available if you know where to look.
Also, keep in mind that almost all trampolines have a weight limit, and the safest jumping is for one participant at a time. So, always read the information on the maximum weight the trampoline can hold, and resist jumping while someone else is using it, no matter how fun it may seem.
You should assess the durability of the trampoline you are considering to buy. Usually, high-quality trampolines will have longer warranties as the chances of them breaking are slim if they are used properly.
What is a high quality, durable trampoline?
You should look for one that has a sturdy frame, which is rust resistant and has a thick pad. Another thing you should have in mind are the number of springs the trampoline has for higher quality and better bounce.,
Finally, the surface the trampoline is made of is just as important, as it will get most of the direct action. You want to look for a surface that will not wear out after some jumping, which means it should be thick and well stitched.
Best Rectangle Trampoline Types
There are different types of rectangle trampolines. Each has its own purpose and it is important to know all you can to make the best choice when buying a unit that suits your purpose.
Are you looking to make your kids happy and give them a fun activity to do, or would you like to create a space where your children could practice gymnastics?
Depending on your intentions, here are the three rectangle trampoline types.
Rectangular trampoline with enclosure
A rectangle trampoline with a net will ensure the jumper's safety. It is quite easy to lose sense where you while feeling the adrenaline of jumping, so a trampoline net is something you should always look for. Unlike round trampolines, a rectangle trampoline provides higher jumping, and does not keep the user in the center, which is why rectangular trampolines are made for a single participant at a time.
Rectangular inground trampoline
Inground trampolines as their name suggests rest on the ground. They are not high and are safer for kids to play on them, and safety nets and steps are not needed. So, if your kids are small and you are looking for a trampoline that will be a great addition in their usualplay, inground trampolines might be the best choice.
Rectangle gymnastics trampoline
Apart from being a great toy, trampolines can be an aid to achieving greater goals such as practicing different tricks and gymnastics. The rectangle surface gives more space to jump and move, and allows more powerful bounces and more stable landings.
Best Rectangle Trampoline Reviews 2019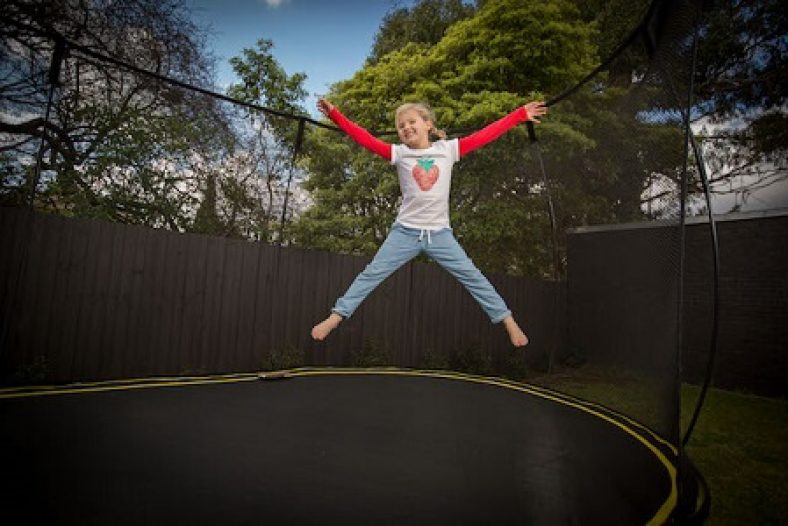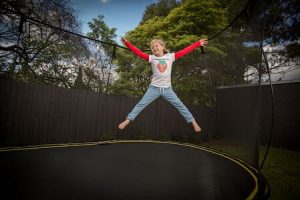 We have covered the features of different types of rectangle trampolines you can expect to find. However, with so many choices, it is still fairly hard to choose the best trampoline.
To save you time searchinig for a trampoline, our team went over hundreds of products, and made a list of what we believe are the best models of rectangle trampolines that will satisfy all your needs.
Best Trampoline For Precise and Safe Jumps
Main Features

Dimensions: 10'x17′
Weight: 420 pounds
Color: Black
Frame: Renewed Heavy Duty frame structure
Single User Weight Limit: No
Safety Net: Yes
Other Features and Tools: Spring puller
This 10'x17' rectangle trampoline comes in a classic black color, making it a perfect accessory for anyone's backyard. The looks are not the only thing that are great – it is a trampoline that ensures high jumps and maximum safety as well!
The Acon Trampoline rectangle bedding is great for anyone who wants to try to touch the sky! Made with a reinforced heavy duty frame, with a design that reinforces the potential of the springs, providing precise and vigorous jumps.
PROS:
Safety net
Extra thick and durable frame
CONS:
The side can sag and expose the springs
Best Trampoline With An Enclosure and Rest Zones
Main Features

Dimensions: 10'x17'
Weight: 655 pounds
Color: Black
Frame: Renewed Heavy Duty frame structure
Single User Weight Limit: 350 poundsIbs.
Safety Net: Yes, built-in Fail-Safe™ backup systems
Other Features and Tools: Overlapping door, built-in rest zones
The Alleyoop Power Bounce trampoline is a high-quality 10'x17' rectangular trampoline which uses Power Bounce technology which adjusts bounces according to age and skill of the user.
This technology, along with high-performance springs ensure powerful bounces and maximum safety since the design not only reinforces jumps but cushions landings as well.
The trampoline comes with a safety net, as well as an overlapping doorway. Another great feature of the Alleyoop rectangle trampoline are built-in rest zones, which allow the users to wait for their turns inside the trampoline and avoid any potential risks to their safety.
Overall, the Alleyoop trampoline is a fantastic addition to anyone's back yard, that will keep the whole family busy!
PROS:
Overlapping door
Built-in rest zones
Best High Bounce Trampoline
Main Features

Main Features
Dimensions: 10'x15′
Weight: 115 pounds
Color: Black, Green
Frame: Galvanized steel frame
Single User Weight Limit: 220 pounds
Safety Net: Yes
Other Features and Tools: Patented enclosure system, durable oversized pad
The Jumpking rectangular trampoline is an excellent addition to your backyard! It is a wonderful sport for your kids, that will make their free time fun and unforgettable.
This 10'x15' rectangular trampoline is designed in a way that gives a bigger jumping area than the round trampolines you can find on the market and it is going to give your kids high jumps and put wide smiles on their faces.
Jumping high does not mean that the users aren't safe; on the contrary, the safety net and the patented enclosure mechanism of this trampoline are going to guard the safety of anyone who gets on!
The only thing you should consider is the user weight limit: this trampoline can hold up to 220 Ibs. and is made for one user at a time.
PROS:
Affordable
Safe
Lightweight
Best Trampoline for Jumpers with Different Jumping Skills
Main Features

Dimensions: 10'x17'
Weight: 470 pounds
Color: Black, blue
Single User Weight Limit: 225 pounds
Safety Net: Yes
Other Features and Tools: Wide landing zone
This 17 ft rectangle trampoline is great for those who have never set foot on a trampoline before and for skilled users. Although it allows for high jumps, it also has a wide landing space and a safety net and an overlapping door which cannot be left open.
The trampoline comes with a warranty valid for different periods depending on the parts. It has a 225 Ibs weight limit and a back up support systems that assures against collapse, and will be your kids' favorite toy for many years.
Believe us, they will use it not only when they are young, but when they grow older as well, and so will you!
This is one of the best rectangular trampolines with nets that you can find on the market. Now you can build your balance and spatial awareness while having fun at the same time.
PROS:
10 year warranty
High quality and low maintenance costs
Best Trampoline for Safe Jumps
Main Features

Dimensions: 15'x9'Weight: 300 pounds
Color: Blue, black
Frame: Weather and rust-resistant galvanized steel frame
Safety Net: Yes
Other Features and Tools: Fade resistant, extra thick vinyl-coated spring pad, spring pulling tool
Skywalker is one of the most famous outdoor product vendors on the market. The Skywalker 15' trampoline's rectangle surface allows for the safety net to be attached to every spring, which means no gaps between the net and the jumping pad exist, and therefore the safety of your kids is elevated to a whole new level.
The trampoline has a 3 year warranty. The galvanized steel frame the trampoline is made with is rust resistant and can endure any weather.
Moreover, the extra thick vinyl-coated spring pad does not only offer a great surface for high jumps but is also fade resistant and will keep looking great regardless of the usage.
PROS:
Extra safety
Weather – resistant
Affordable
Best Trampoline for Maximum Safety
Main Features

Dimensions: 8'x14'
Weight: 123 pounds
Color: Black, Blue
Frame: Heavy duty steel, curved poles
Safety Net: Yes
Other Features and Tools: Dual closure system
The Upper Bounce rectangular trampoline is great for anyone who is looking for reinforced safety, as not only provides an enclosure net equipped with a dual closure system, but also has curved poles on the sides with rings on top which provides a stronger net and prolonged lifespan.
This trampoline is easy to assemble and disassemble, and anyone can do it without any complicated hardware.
PROS:
Easy to assemble
Safe and rust resistant
Can arrive in separate boxes
CONS:
Not adjustable for slopes
Best Trampoline for High Jumps
Main Features

Dimensions: 14'x8'
Weight: 290 pounds
Color: Green, Black
Frame: Rust resistant galvanized steel
Safety Net: Yes
Other Features and Tools: Spring puller
The 14' rectangle trampoline has an enclosure secured by a vertical zipper and four safety clips. Jumps will be high, but there is nothing to worry about, as the T frame offers greater stability and leaves you without any safety concerns.
You and your kids can finally spice up sunny days in your backyard with a lot of fun and a little fitness.
PROS:
Great stability
Safe option
What is the best rectangle trampoline?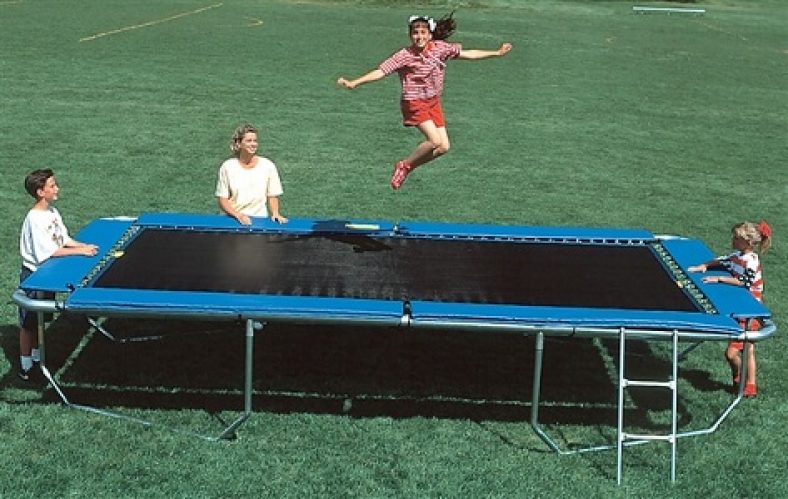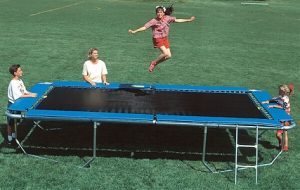 After reviewing the features you should be looking for in a trampoline, it is time we come to a conclusion. So, what is the best rectangle trampoline that has all the features we mentioned: a safety net, durability, warranty?
It depends on the space you have in your yard, as well as the price you are willing to pay. If you would not mind paying more, the JumpSport trampoline will not let you down and it has a 10 year warranty.
If, you would like to choose a more affordable option, then the Upper Bounce trampoline or the SkyWalker trampoline are a lightweight solutions, that will provide you with high jumps and ensure your safety.
Although we have some favorites, it is important to note that all the products we reviewed were ones we have chosen after careful evaluation of all the possible options, so whatever your final choice, we assure you that you will not be disappointed.