Last updated on: May 19th, 2019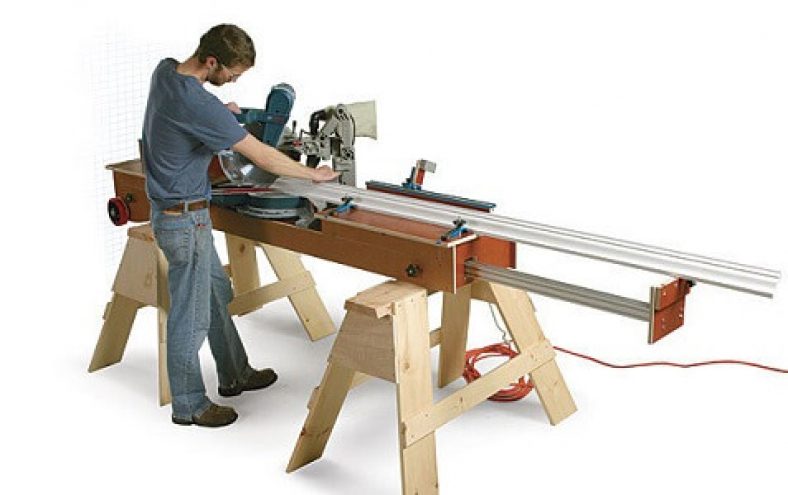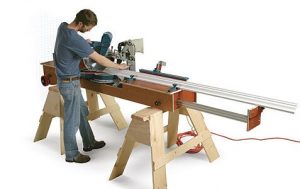 It goes without saying that if you have the best miter saw, you need the best stand to achieve the greatest results. It is imperative you purchase a miter saw stand that fits your budget and needs. Buying the right tool is a better investment decision than making your own stand which might compromise stability and precision.
What should you check when shopping for the best miter saw stand in 2019? No doubt, finding the perfect accessory can be a pain in the neck but you shouldn't worry because this article has everything you need for a smooth shopping experience. We have done the hardest part for you and researched the list of the top 10 miter saw stands that are trending this year. Whether you need a collapsible miter saw stand or a universal miter saw stand, this is your comprehensive review and buying guide.

What To Look For In A Miter Saw Stand?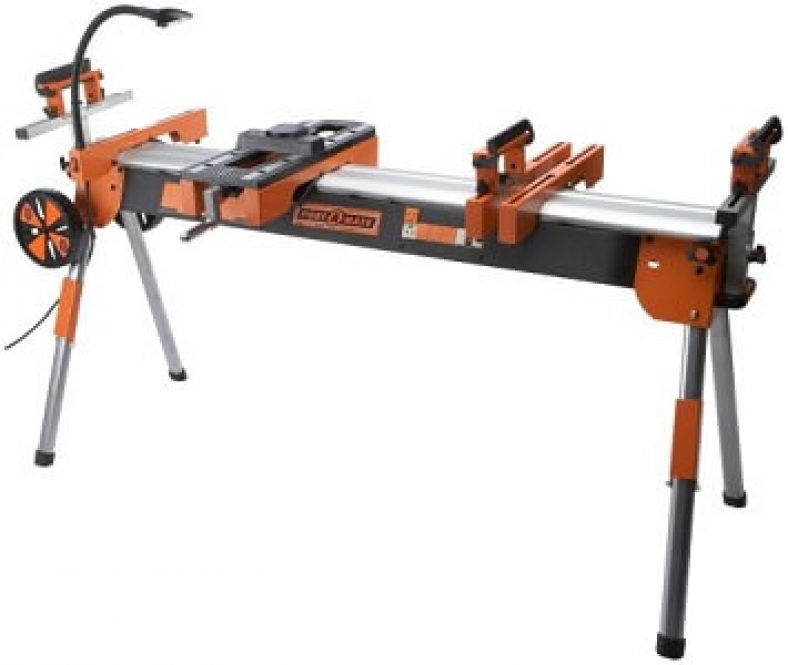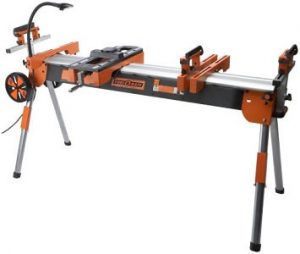 Types Of Miter Saw Stands
Before we provide a list of the best saw stand brands in the market, we would like you to learn the 4 major varieties at your disposal.
1. Traditional miter stand
A traditional stand is a basic workbench and the simplest design you'll find on the market. It consists of two wooden sawhorses with a plank across them. The design is quite heavy hence it's considered outdated because it requires you to work in fixed place. It might not be suitable for a commercial woodworker who needs to move from one job site to the next. However, it could be your best bet if you work with a heavy duty miter saw as it accommodates an incredible amount of weight.
2. Rail miter stands
Rail miter stands come with 4 metallic legs which protrude from a horizontal rail, hence their name. The legs can be pulled back and forth. The stands also feature clamped crossbars which are placed at any spot on the rail, allowing for versatility. This is the type of stand you need if you own a variety of miter saws. It can work with a folding miter saw, best rolling miter saw, or sliding miter saw. Moreover, it provides a convenient extension that allows extra working space.
3. Tabletop stand
The design of a tabletop stand is just as you would imagine – a flat surface where you can mount your saw. Like the rail miter stand, a tabletop stand enables you to use a wide array of saws. The only difference is a tabletop requires your saw to be bolted to the top hence there's limited mobility of the stand and the saw.
4. Wheeled one-hand folding stand
This is the best portable miter saw stand and comes with everything you need. Not only is the table portion constructed in a sturdy material but there are also two legs that set widely apart in addition to a pair of wheels. The best feature is the single-handed design. You simply make a quick release of the catch to fold the table upright. To unfold the stand, release the catch again and it will unfold. It is no wonder it's a favorite stand among most miter saw users.
5. Compound stands
These stands come in different designs and styles. They are constructed in metal with a plank and dual horse legs. A compound miter saw with stand offers a great balance between sturdiness and portability. Some parts may look traditional but most features are upgraded, thereby giving you the right balance.
What Is A Miter Saw Used For?
You can also refer to a miter saw as a drop saw. It is a fundamental power tool that is used in almost any carpentry work to make fast and precise cuts at specific angles in a workpiece. It is mostly used to cut trims and moulding. Most miter saws, with the exception of the traditional models, are compact and portable. Their blades range in size from 8" – 12". With the best miter, you can accomplish the following tasks.
Making a basic crosscut

Creating a basic miter joint

Make angled cuts

Make bevel and compound angle miter cuts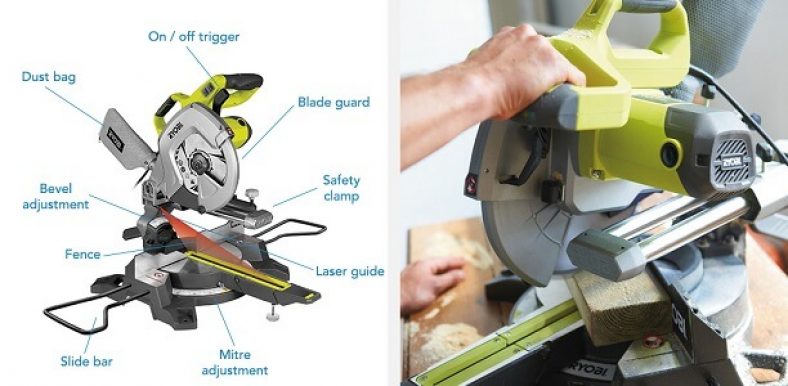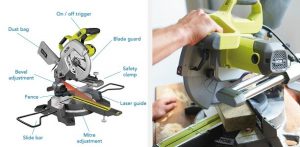 To use a miter saw, you need to have the following tools and materials.
Safety glasses

Ear protection

¾" screws

Stock blocks

1×4 sacrificial fence

First mark your board and grip the material firmly with a steady hand. Line up your blade to align the cut and use your thumb to lift the blade guard, sighting down one side of the blade. This is where you should be very careful not to cut your fingers (keep them at least 6" from the danger zone/blade path). Make sure that the material is clamped firmly before releasing the blade guard. Then, take your hand back to the switch and cut the board. If this is your first time, the experience might be a little startling. The miter saw may kick when you first start the blade. Before making a cut, it is best to wait until the blade reaches the peak speed. When lowering the blade, do so slowly but steadily through the material to ensure a completely clean cut. Hold the carriage firmly and release the switch. Don't raise it or reach under until it stops spinning.
Best Miter Saw Stand Reviews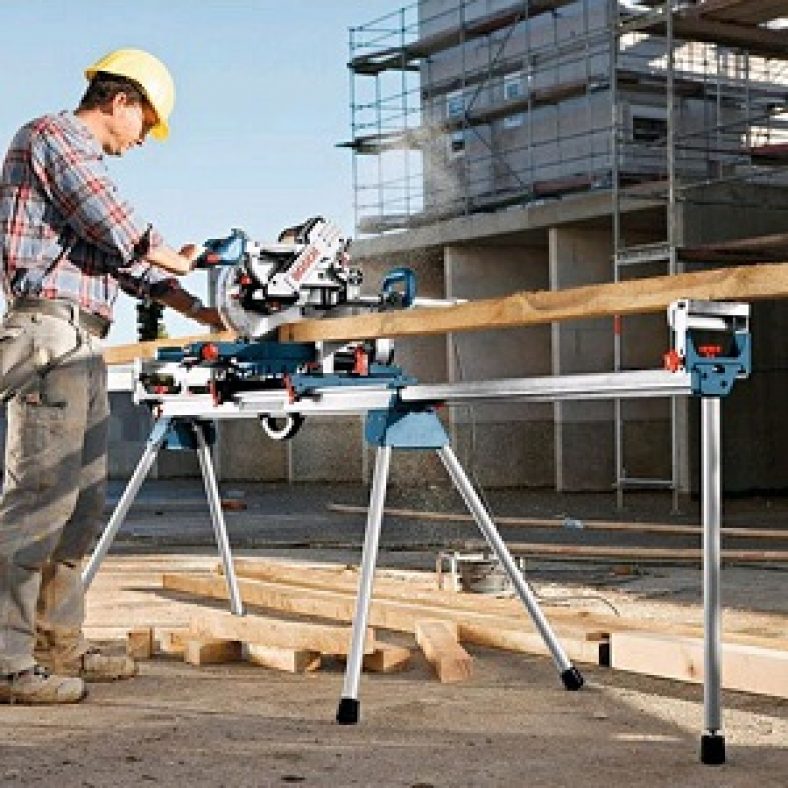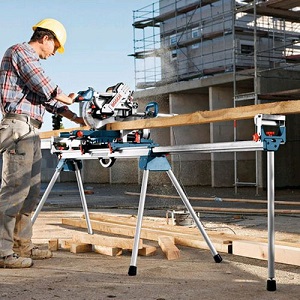 Need a perfect wood miter saw stand? Take a close look at the 10 top-rated miter saw stands plus their reviews so you can get a clear idea of the most suitable option for your needs. If you are a fan of DeWalt, we have some of the most exclusive models. Hopefully, this information will make your buying process easier and quicker.

Dewalt Dwx724 Stand – Best Stationary Miter Stand
The DeWalt miter saw stand is a great tool with a universal design. But it doesn't have wheels so it's not easy to move your saw from one point to the other. However, it is very sturdy as you would expect from aluminum truction.

Features:
Aluminum truction
Silver color
Weighs 45lbs
40" extension beam that accommodates 500lbs and up to 10ft of material
Foldable legs
32" extended height, 100" extended width, 8" folded tool height, and 44" folded width
3-year limited warranty
PROS:
A versatile design that can be used with all types of DeWalt miter saws
A compact design that makes it easier to store and transport
Doesn't need batteries
An attractive finish
CONS:
It is not compatible with non-DeWalt miter saws
If you have a carpentry project that doesn't require you to move your miter around, then the Dewalt DWX 724 would be an ideal solution. Don't worry about transportation and storage because it can easily be folded at your convenience. Luckily, the sturdy legs provide a strong base for any material and saw.
DEWALT DWX726 Stand- Best overall Rolling Miter Saw Stand
Here is a wheeled miter saw stand that facilitates easy mobility on a job site. The DeWalt DWX726 heavy-duty rolling miter saw stand comes with adjustable mounting brackets, giving you the flexibility of mounting any miter saw in the shortest time possible.

Features:
Weighs 24 lbs
300 lbs weight capacity
Measures 60" x 17" x 10"
Wide rugged rubber grip wheels
No batteries
Adjustable mounting rails
3 Pneumatically assisted positions
Tubular steel truction
Adjustable work supports for materials over 8" long
3-year limited warranty
Yellow finish
PROS:
Accommodates any miter saw
Reliable job site mobility thanks to the wider rubber grip wheels
Raising and lowering the stand is easy
Durable truction with a high weight capacity
CONS:
Doesn't allow for warping
The DeWalt DWX726 miter saw stand is bulkier than the sister model- DeWalt DWX724 but it shouldn't worry you in terms of mobility because the wheels make up for that. We can confidently say that is it the best mobile miter saw stand.
DEWALT DWS780 12 Double Bevel Miter Saw w/ DWX726 Rolling Stand – Best Compound Miter Saw With Stand
Does your job involve high capacity cutting? The DeWalt 12 sliding compound miter saw with stand must have been designed for someone like you. This product is a combination of a miter saw and stand (DWX726 Rolling Stand). Take a look at the features of the two items.

Features of the Double Bevel Sliding Compound Miter Saw:
Cuts up to 2×6 lumber at 90⁰ and 2×4 at 45⁰
Rugged guards and stainless steel detent plate
12" carbide miter blade
15 amps and 3800rpm motor
Blade wrench
XPS cross-cut positioning system
Vertical materials clamp
An efficient dust bag that collects more than 75% of the dust
Features of the DWX726 Rolling Miter Saw Stand:
Wide and flexible infeed and outfeed roller with 8" material support
Handle design
Tubular steel truction with a 300lb weight capacity
Wide rubber grip wheels
Adjustable rails that can hold any miter saw
3 pneumatic raising and lowering positions
90 day return policy
PROS:
The miter saw guarantees high-capacity cutting
Facilitates a hassle-free operation
Ultimate durable saw and stand
The rolling stand has a handle design that increases portability
CONS:
The miter saw and stand requires a large storage space in the garage
DeWalt 12 compound miter saw with stand is a reliable power tool you should have in your garage whether you are an amateur or professional carpenter. The multiple features of the 12 miter saw with stand makes it easy and safe to use. While the saw is not very hot on small pieces of wood, it ensures precision when cutting large pieces.
Kobalt Steel Adjustable Miter Saw Stand – Best Budget Buy
Kobalt miter saw stand is a compact miter saw stand that supports a maximum weight of 400 pounds. For easy mobility at your workstation, it comes with heavy-duty 8" wheels. Here is a complete list of the features.

Features:
Steel structure
Stand support
400 lbs weight capacity
Telescopic work supports that can extend up to 8 feet
Quick release mounting brackets
8" wheels
Weighs 42.2 lbs
Black finish
PROS:
A compact folding design allows easy transportation and storage
Convenient vertical storage with stand supports
The quick release of mounting brackets facilitate safe mounting of a miter saw
Allows mobility at the job site thanks to the wheels
CONS:
Cannot be used as a 12 sliding compound miter saw with stand
There are many stands on the market but the Kobalt folding miter saw stand is one of the best budget buys. However, we recommend if you have to store it with the saw attached, make sure it is secured to a post or wall.
Milwaukee Electric Tool 40-08-0551 – Best Universal Folding Miter Saw Stand
Milwaukee miter stand is an aluminum saw stand that works with all major saw brands. It is a perfect option if you are seeking a folding miter stand design.

Features:
500lbs weight capacity
Adjustable foot design
Aluminum truction
2 mounting brackets that support a wide range of miter saws
Portable design weighing 31 pounds
Extends up to 100" to accommodate large workpieces
PROS:
Impressive weight capacity
Lightweight truction increases the portability of the stand
Allows vertical storage
The adjustable feet provide stable support on uneven surfaces
Do you want to save valuable storage space in your garage? The Milwaukee miter saw stand should be on your bucket list. It is one of the miter stands we highly recommend when it comes to weight support. It suits any user and situation.
RIDGID AC9946 Miter Stand – Best Mobile Miter Saw Stand
The Ridgid miter saw stand has numerous plusses, making it a great option for woodworking. Check out the distinctive features.

Features:
Adjustable height
12" wheels that can move over stairs
Orange and silver color
9 ft. 6" total extension length
Transport handles
33.5" working height
Mounting braces for a 1×8 working surface
Weight: 68lbs
Single step release extension lock
400lbs carrying capacity
PROS:
Lifting and lowering the stand is easier thanks to the adjustable support
Moving up and down stairs is not an issue
Ultimate comfort with lightweight design
Makes a perfect sliding or compound miter saw stand
CONS:
The extending support handles are flimsy
Ridgid MS UV miter stand can be used with all compound saws since it has a universal quick release mounting system plus a secondary lock that secures the ensemble. Overall, Ridgid miter saw stand with wheels is the best portable miter saw in terms of functionality, design, and value.
Ryobi Miter Saw Stand Green – Best for Value and Durability
Ryobi compound miter saw stand is made with a universal design concept in mind hence it works with all miter saws. Find out why this saw stand is a great option

Features:
42lbs
Measures 54.8" x 10.8" x 9.1"
400lbs weight capacity
Quick release mounting brackets
Tool-less height adjustment
Extension arms that support up to 9 ft. of materials
QUICKSTAND technology that unfolds legs in seconds
PROS:
Repetitive cutting is more convenient due to the adjustable arm
Compact design that doesn't need a lot of storage space
Compatible with most miter saw brands including 12-inch miter saws
Sturdy and durable steel truction for any job site
The durable truction of the Ryobi miter saw with stand makes this tool a great buy for your money. If you ever need a good balance between heavy-duty and portability, choose the Ryobi miter saw stand today. You won't be able to move it around the job site but the easy fold-up design will make transportation and storage easier.
Trojan MS-2000 Miter Saw Stand – Best for Functionality
Is your miter saw too bulky to move around your workstation? You don't have to change it. All you need is a universal stand with wheels to carry it wherever you like. The Trojan miter saw stand could be your answer. Find out why.

Features:
A universal design that supports a wide variety of saws
Incredibly lightweight and portable
Supports 13 ft. of material
The two ends are extendable
Relatively thin legs
Steel tube truction
10" diameter wheels (pneumatic-assisted)
Rust-resistant galvanized rollers
PROS:
The product is tructed for stability and portability
Easy setup
Can be used with numerous saws
Innovative card design for maximum mobility
CONS:
Cannot be stored in an upright position
Trojan ms-2000 miter saw stand has everything you need for your portable miter or folding miter. We recommend it particularly for professional handymen who require moving from one job site to the other and have to carry a stand with them. However, you must drill and mount your saw manually since it is not pre-drilled.
WEN MSA750 750 Lb Stand- The Best High- Capacity Miter Saw Stand
There are a lot of cheap miter saw stand on the market today but none of them can carry as much weight as the Wen miter saw stand. It can take on materials up to 10ft and 750 pounds. This tells you that it is the best stand for heavy-duty saws.

Features:
Extension arms of 34" to 39" allow material up to 10 ft long
Powder-coated steel truction
Collapsible design
2 height-adjustable rollers
Quick release brackets
2 table extensions
2-year warranty
Weighs 38.8lbs
Measures 52.8" x 35.4" x 24"
PROS:
A universal design that fits nearly all miter saws
Corrosion-free steel frame
Heavy-duty design that can fold for easy transportation between sites
The height of the rollers can be adjusted to meet your specific requirements
CONS:
Lacks flip-up stops hence you can't measure and cut simultaneously
Remember that the rollers of this miter stand work as stops so you can make istent cuts. The universal design is not only suitable for the WEN miter saw series, but also makes a great stand for other popular miter saw brands.
What is the best Miter Saw Stand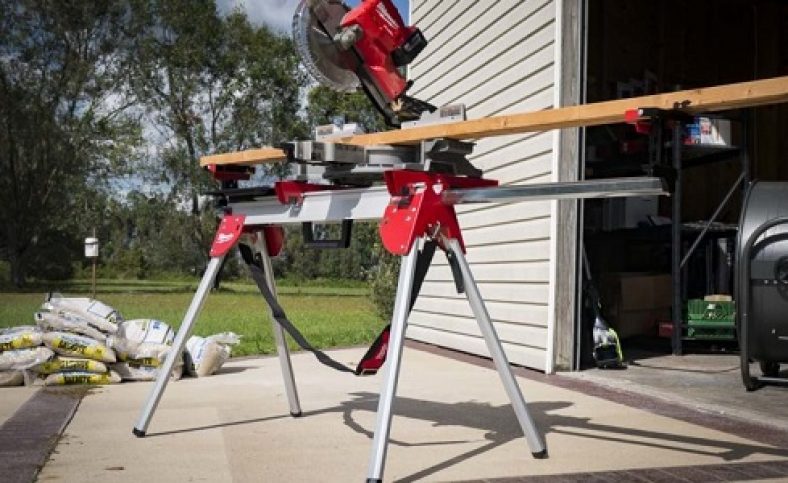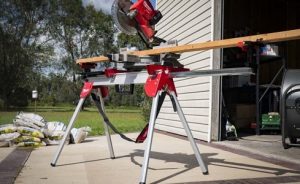 There you have the best 9 saw stands to choose from. Be sure to consider the various features and determine what is more important to you. As you research, we also recommend you check the Black and Decker miter saw stand which is another impressive miter stand. Also, don't forget to check the reviews and see what users say about these products.
According to TheCozyHolic, the ideal miter saw stand endures the test of time and that is why we assist you to get it right the first time. We strongly believe the DEWALT DWX726 Stand has everything you need for woodworking so we pick it as our number 1. However, for ultimate mobility, we encourage you to check the Ridgid miter stand. Enjoy a great miter saw stand shopping experience!